Easter is almost here, and while you could just pick a board book up at Walmart while you're getting the Paas dye, you've still got time to order a book you'll treasure for years to come.  And guess what?!  I happen to have a few ideas to help you do just that!
TOP PICKS
T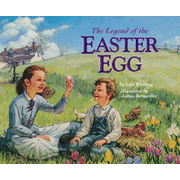 he Legend of the Easter Egg by Lori Wahlburg is great for both boys and girls.  It's also good for a very wide age range–my two year old enjoyed it last year, but supposedly it's for ages 4 to 7.  Set in an historical context reminiscent of Little House on the Prairie, a young boy spends a week wondering whether his sister will survive a terrible illness.  During that time, the family he stays with teaches him the story of Christ's death and resurrection, using the Easter egg as a symbol of Christ's resurrection.  While that may not be historically where Easter eggs came from, I'm ok with it as a legend and using spring generally to point to the resurrection.  I particularly like illustrations, including the romantic color palette and the historical flashbacks from Jesus's time.  A favorite part of the book for my kids is when the young boy decides to pray on his own—without a grown-up's help—for the first time.  My oldest really took that to heart last year and God used it to prompt her to grow in her own prayer life.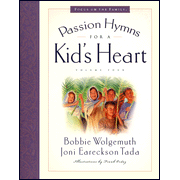 Passion Hymns for a Kid's Heart by Bobbi Wolgemuth and Joni Erickson Tada is a book and CD combination of classic church hymns in a traditional setting.  Yet, for a CD that contains ancient and vocabulary-rich hymns like All Glory, Laud, and Honor and When I Survey the Wondrous Cross, it is remarkably kid-friendly.  Kids sing most of the songs, and they help infuse the old hymns with new excitement.  This CD has been really helpful in getting my kids ready for worship on Easter Sunday.  They can now sing-along with at least one or two songs we are sure to hear.  If that weren't enough to recommend the book, the illustrations of Christ's passion and resurrection are some of the most moving I've seen in a kids' book.  Put the two together, and it's a resource I highly recommend.
RUNNERS UP
(Warning: some of these books I've only peeked around in.  Unlike the books above, I haven't scrutinized every page.  Still, my guess is that they'll be better than the average big box store Easter book.)
For boys 4-8, you might check out Easter Egg Haunt by Mike Thaler and Jared Lee, the creators of the Black Lagoon Series.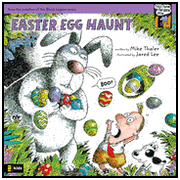 It's an entertaining way to help your little fellas distinguish between stories about the Easter Bunny and eggs, and the story of Christ's death and resurrection.  I would probably prefer to add my own content about what the story of Jesus is—but just as a fun read to get the conversation started, I think it could be a big help for a lot parents.  (Plus, the illustrations add a completely extra layer of text, much like a cartoon or graphic novel, that little boys will howl over.  Think Calvin and Hobbes at Sunday School on Easter….)
If you want a game kids can play, the resurrection eggs (filled with Easter related icons instead of candy) and the book Benjamin's Box: The Story of the Resurrection Eggs by Melody Carlson seem to be very popular.  I'm not all that keen on books with imaginary characters who take us into Biblical stories.  There are a ton of those and for some reason an inordinate number seem to use Jesus's donkey's perspective.  Not saying they're evil–I just happen to think they aren't necessary to get kids into the story.  If you aren't turned off by the use of an imaginary character, and especially if you have a kinesthetic learner or visitors who aren't Christian, these physical objects do provide an opportunity to talk about the story of Easter and anchor the child's imagination in something they can touch.
FOR OLDER KIDS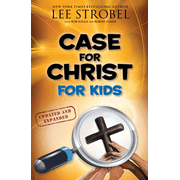 If you have  a kid who falls between the ages of 9-12, you might want to move away from the juvenile looking Easter stuff.  Instead of an Easter story per se, you might try one of Lee Strobel's faith building books like The Case for Christ for Kids or The Case for a Creator for Kids.  I think a great book for bridging that gap into a more mature faith would be one of these books by Lee Strobel.
Any ideas for last minute shoppers?  I was hoping to find a really good board book, but just haven't found that special one yet.  Do you have one you'd recommend for the littlest ones?
Further Redeemed Reading: Easter Gifts 101: Bible Stories and The Story of the Bible, Easter Gifts 101: The Prince's Poison Cup by R. C. Sproul.  Or check out some tax day reading with Janie's Three Cheers for Free Enterprise: The Year Money Grew on Trees.

Reading Ahead for You
Reviews and Resources Weekly in Your Inbox