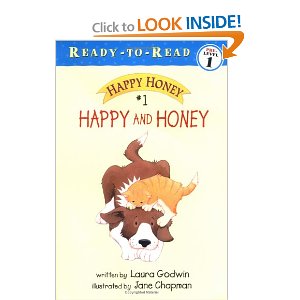 Everybody seems to be pinching pennies these days.  I am admittedly pretty miserly when it comes to buying books.  As much as I value reading, I also like having money to buy food, clothes, and a roof overhead.  So, what is it that you really, really need to start your kids' library?
In order to answer that, I thought, why not create a $20 Bookshelf Challenge.  Take one level of my kids' reading, and see where my money would go the farthest.  And believe it or not, with a little help from my library and a free website, I think it actually worked.  (If it makes you feel any better, my PreK daughter is reading on roughly a second grade level.)
I decided to begin with the Early Reader category for one reason: I found it one of the most challenging.  I expected a lot less from my picture books.  With my early readers, I wanted to help my kids make the jump to books they could read for themselves.  First of all, I needed books that were at the right reading level and reinforced phonics basics.  Second, I needed books that didn't undermine what I'd been teaching them about a Christian worldview.  And finally, they had to be good stories.  They had to make my kids want to read.  I spend enough time in a battle-of-wills with them already; couldn't reading be fun?
So, here's how I tried to meet that $20 Bookshelf Challenge:
At Your Library

:  We've used our $20 already, but if you're like me, that means you'd better head on over to the library. Here are three early reader series that I particularly love:
Henry and Mudge by Cynthia Rylant: I found that even my girls loved to read about the silly and sometimes muddy exploits of Henry and his big dog Mudge.  They were particularly fond of Cousin Annie and her bunny snowball, as well.  I've only come across one place where Henry and Mudge act in a way that is questionable morally.  But overall, they are classics not to be missed.  Some of the original books won't be suitable for the earliest readers, so take care to grab the stories on your child's level.  It won't be long until they can read them alone, and until they do, if they are like my kids they will love thumbing through the colorful and sweet illustrations.
The Happy and Honey books by Laura Godwin are some of the simplest stories you'll come across on the library shelf. Most series, even the level one readers, begin somewhere above a true beginner's head.  But Happy and Honey were just right for us.  And if I were to rate them on illustrations alone, they are my favorite series.  Simple and sweet—that says it all.
I imagine that the Biscuit books by Alyssa Satin Capucilli will annoy some parents.  They may feel a little too sweet, and Biscuit is incorrigible.  He isn't an especially good role model, but then again he is a dog, and the text is simple enough and enjoyable enough that you and your kid can have a good laugh over silly Biscuit together.   My youngest enjoyed reading the refrain "woof, woof" while my oldest could read the rest of the text with us.
And when you're ready for something new, try this more expansive list called A General Guide for Beginning Readers from the publishers of Susan Wise Bauer's The Story of the World and The Well-Trained Mind.  Or browse this list of mostly free online books.
So, that's my best list for $20.  How about you?  Care to take the $20 Bookshelf Challenge and see if you can do better?  The best response will get a copy of How God Used a Thunderstorm by Joel R. Beeke and Diana Kleyn.  I'll announce the winner next Monday.
P.S. Find out who won and learn about the fantastic devotional book we gave away in Emily's post Contest Winners and More.
Reading Ahead for You
Reviews and Resources Weekly in Your Inbox