An aspiring dancer has a chance to "change the stars" for his grandfather when he is transported back to 1930s Harlem.
The Magic in Changing Your Stars by Leah Henderson. Sterling, 2020, 272 pages.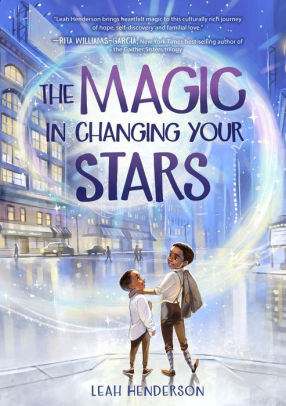 Reading Level: Middle Graces, ages 8-10
Recommended for: ages 8-12 (6-10 as a read-aloud)
Ailey Lane was named for an African-American dancer, and it turned out to be prophetic. He has the moves, whether it's strut, slide and saunter. On the day he tries out for his school production of The Wiz, he knows the Scarecrow's part is already his. Until he actually gets in front of a live audience and forgets every single smooth move. He's a bust! And to pile worse on top of bad, his beloved Grampa takes a fall and ends up in the hospital. Oddly, Grampa seems more interested in Ailey's failure than his own problems. That's because he has a secret regret. Growing up in Harlem in the 1930s, Grampa was something of a tap sensation. Once, while dancing on the sidewalk for loose change, he caught the eye of Bill "Bojangles" Robinson, who was impressed enough to offer him an audition at the Apollo Theater.
Grampa never tried out—too afraid he'd fail. But he always wondered what would have happened if he attempted to change his stars that day. And now there's something he wants Ailey to do for him: find a certain box hidden away in a closet and keep the contents safe. The contents are a pair of tap shoes once owned by Bojangles Robinson. Ailey doesn't just find the shoes, he tries them on . . . And they magically transport him to Harlem of 1939. There he meets his own grandfather, Benji Lane, shortly before that fateful encounter with Robinson. Once over the shock, Ailey's mission is clear: he must get Benji to the Apollo and steel him for that audition. Will that change the stars?
Though it leans a little too earnestly on luck and stars, this is a warm-hearted tale of hope, love, and family ties. Time-travel aficionados will hear echoes of Back to the Future, with no flux-capacitor faux science and no explanation but "magic." Destiny, if not magic, is certainly mysterious: Who can tell how life might have changed for any of us if we had made different choices at those pivotal points? There's no answer to that question, but the snappy dialogue and happy rhythm that drive the story make this a fun family read-aloud.
Overall Rating: 4 (out of 5)
Worldview/moral value: 3.5
Artistic/literary value: 4
Also at Redeemed Reader:
We are participants in the Amazon LLC affiliate program; purchases you make through affiliate links like the one below may earn us a commission. Read more here.
Support our writers and help keep Redeemed Reader ad-free.