An independent-minded young teen seeks adventure and finds maturity in Gold Rush Girl.
Gold Rush Girl by Avi. Candlewick, 2020, 306 pages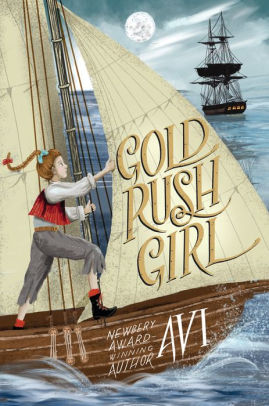 Reading Level: Middle Grades, ages 10-12
Recommended for: ages 10-14
Victoria Blaisdell, better known as Tory, grew up in comfortable circumstances in Providence, Rhode Island. Before 1849, her greatest trial was her Aunt Lavinia's constant criticism of her unladylike ways. But then Father loses his job and desperate straits threaten the family. When word comes of gold to be found in far-off California, free for those enterprising enough to go and get it, Father sees the answer: go and get it. To say he's a dreamer is an understatement. The man has a feeble grasp on reality beyond numbers on a ledger. Tory's grasp is only slightly better, for she stows away on the outbound ship with the help of her little brother Jacob, leaving her father no choice but to take her along.
But when they arrive in San Francisco they're all slapped by reality: a tent city built on a mud flat, almost entirely male, with sky-high prices for everything. But Father gamely leaves for the gold fields to stake a claim, and things start looking up for Tory once she finds a job and a new friend. She enjoys her independence, but a 14-year-old girl has a lot to learn, and when her brother disappears, Tory learns the weight of responsibility.
Finding and rescuing Jacob seems to take more pages than it should, but there's plenty of historical detail to engage the reader. Avi, a prolific author of historical novels, makes good use of San Francisco's "Rotten Row"—the literally hundreds of ships that were abandoned in the harbor as entire crews rushed to the diggings. Gold Rush Girl is blessedly free of contemporary-issue projection and all characters seem appropriate for their time. Tory's independent streak and penchant for male clothing are not out of place and her growth in self-knowledge is both believable and admirable.
Overall Rating: 4.25 (out of 5)
Worldview/moral value: 4. 5
Artistic/literary value: 4
Also at Redeemed Reader:
We are participants in the Amazon LLC affiliate program; purchases you make through affiliate links like the one below may earn us a commission. Read more here.
Support our writers and help keep Redeemed Reader ad-free.