Call of the Klondike: a True Gold Rush Adventure, by David Meissner and Kim Richardson.  Calkins Creek, 2012, 164 pages. 
Reading Level: Middle Grades, Ages 10-12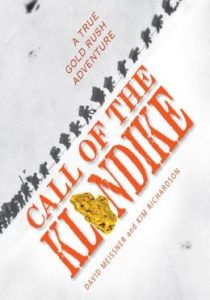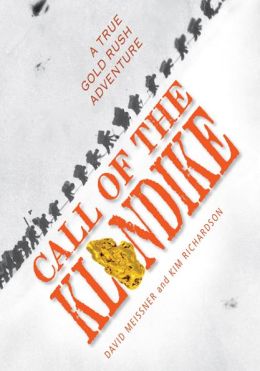 Maturity Level: 3 (ages 10-12) and up
One-line Summary: This middle grade history uses original letters and contemporary news accounts to recreate the drama of the Alaska Gold Rush.  True-adventure fans will love it.
Seattle, 1897: On July 17, sixty-eight rugged miners stepped off the SS Portland and made their way through the excited crowds.  Their sacks, blankets, oil cans, even shoes were filled with gold–many millions worth.  Within hours the news was rocketing around the world: fortunes waited for the taking in the Klondike region of northern Canada.  Stanley Pearce and Marshall Bond happened to be in Seattle when the news arrived, and quickly concluded that they'd found themselves in the right place at the right time.  Both were young, healthy, and unattached.  Both had mining experience or knowledge.  And they had connections, especially Peirce's father, who wired them two thousand bucks to fund their expedition.  Best of all, if they left by the end of August they would beat the crowds to the gold fields.
If anyone was likely to succeed, it was these two, but their luck ran out even before they reached the Klondike.  The terrain was extremely difficult, expenses greater than anticipated, and winter closed around them like an iron fist before they expected it.  Like 99.5% of the Klondike prospectors, they never panned enough gold to cover their losses.  On the other hand . . . they got to participate in the last great gold rush, braved the last frontier, slept outside under the Nothern Lights, befriended other indomitables like Jack London (who used Bond's chief sled dog as the model for Buck in Call of the Wild), and survived the adventure of their lives.  Their letters home insisted (maybe a little too insistently) that they were happy and inspired: . . . Bond and I both paused from the hard work we had in hand to comment on the grandeur of it all and wonder what unknown thing made this Godforsaken barren country so fascinating to us . . . with all its hardships there is a certain indescribable ghastly fascination about it. 
Gold wasn't the real treasure after all.  The story is mostly told through original sources: letters, lists, news accounts, telegrams, and lots of pictures.  
Cautions: None
Overall value: 4 (out of 5)
Worldview/moral value: 3.5


Historical/literary value: 4
Categories: Nonfiction, Middle Grades, History, American History
Please follow and like us: