NIV Artisan Collection Bible for Girls. Zondervan, 2019, 1600 pages (9.9 point font)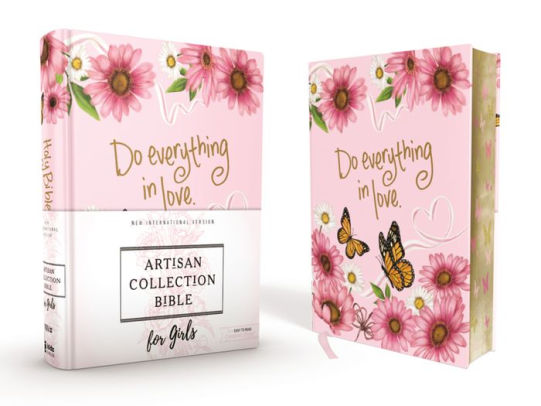 Reading level: Middle grades, ages 10-12
Recommended for: ages 12-up
The title is a little suspect—I don't see anything especially artisan-y about it—but it makes an attractive "gift Bible" or "journaling Bible." There are no in-text features or unique study materials, just a lush cloth cover (in two designs), 2 ribbon markers and decorated edges. (When the Bible is open flat so that the pages are slightly fanned, butterflies appear!) The main feature is wide, lightly lined margins on every page for doodles, notes, reflections, etc. Personally, I like this open approach better than the lush, flower-and-butterfly-heavy coloring Bibles that were so prominent two years ago. For readers of the NIV, this might be a nice gift option for the girl who likes to think her own thoughts with no prompting.
Overall rating: 3.5 (out of 5)
We are participants in the Amazon LLC affiliate program; purchases you make through affiliate links like the one below may earn us a commission. Read more here.
More at Redeemed Reader:
Support our writers and help keep Redeemed Reader ad-free.