NIrV Illustrated Holy Bible for Kids. Zondervan, 2019, 1632 pages (8 point font)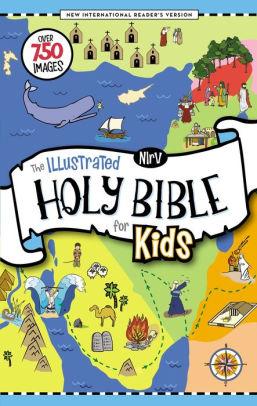 Reading Level: 3rd grade
Recommended for: Ages 4-8
This new edition of the NIrV is marketed as a transition Bible from storybooks to the actual text, and that seems about right. Almost 750 full-color illustrations of varying sizes draw attention to familiar stories as well as basic biblical concepts (such as an illustrated "10 Commandments" page). The illustrations are simple and appealing to young kids, and not too cartoony. One feature I especially like are the illustrated maps, such as the "Easter Story Map" showing a layout of Jerusalem where the major events of Passion Week occurred. Another nice feature is the pull-out Bible Family Tree, showing major characters in chronological sequence with their relationships to each other.
As for in-text features, there aren't any, unless we count the full-color charts and maps. You will also notice that there are no chapter or verse numbers. Sections of scripture are indicated by a heading, such as "Abram and Lot Separate, Genesis 13:1-18" or "Jesus Calms the Storm, Mark 4:35-41." The stated reason is that chapter and verse numbers can be "distracting" to young children. Parents can make up their own minds about this, but it does make the NIrV Illustrated more like a Bible storybook, and can thus be truly transitional as the child learns to read and understand scripture for himself. The font size seems a bit small, but since the whole package weighs almost 2½ pounds, that's probably a trade-off between more pictures and bigger text.
Overall rating: 4 (out of 5)
We are participants in the Amazon LLC affiliate program; purchases you make through affiliate links like the one below may earn us a commission. Read more here.
Also at Redeemed Reader:
For more information about the NIrV translation, go here and scroll down.
For past reviews, see our Mega-list!
More than 75 books for children and teens, all about islands, oceans, and more. Bonus: get a free hand-drawn reading tracker!
Reading Ahead for You
Reviews and Resources Weekly in Your Inbox