The "insignificant events" befalling a girl without arms throw the rough transitions of middle school into sharp, yet humorous, relief.
*Insignificant Events in the Life of a Cactus by Dusti Bowling. Sterling, 2017, 272 pages.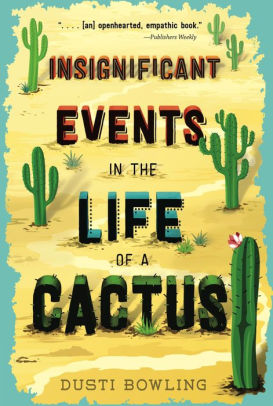 Reading Level: Middle Grade, ages 10-12
Recommended for: ages 10-15
Aven Green, born without arms, has been raised by her adoptive parents to be resilient—they've always told her that arms are overrated, and she can do anything she wants without them, just differently. So far that philosophy has worked for her, but the tween ages are always a time of difficult transition. A move from Kansas to Arizona, where her parents have accepted a job managing a rundown tourist attraction called Stagecoach Pass, is that much tougher for Aven's unique anatomy. Back in Kansas, she had friends who saw her as not that much different from them. Here in the desert, she's a freak. Freaks tend to seek out other freaks, and Aven finds hers in Connor, a kid with Tourette's Syndrome (random barking gives him away). She makes another friend in Zion, an overweight nerd named for a comic-book character by nerdy parents.
That's a start, but there are more challenges to come, including a mystery that may connect Aven with her birth parents. The mystery seems a bit half-baked to me—the meat of the story is Aven herself, and how she meets the daily inconveniences of her life with humor and spunk. Her parents obviously have had a lot to do with her attitude, which, though deflated from time to time, is never defeated. They cheer from the sidelines without stepping in to solve Aven's problems for her. She carries the narrative, with admirable support from secondary characters, and her voice is unique and irresistible.
Overall rating: 4.75 (out of 5)
Worldview/moral value: 4.5
Artistic/literary value: 5
We are participants in the Amazon LLC affiliate program; purchases you make through affiliate links like the one below earn us a commission.
Stuck at home? Enjoy our FREE Christian read-along adventure for all ages with lots of book ideas, discussion questions, and more!
Reading Ahead for You
Reviews and Resources Weekly in Your Inbox