Games of Deception: The True Story of the First U. S. Olympic Basketball Team at the 1936 Olympics in Hitler's Germany by Andrew Maraniss. Philomel, 2019. 240 pages.
Reading Level: Ages 12 and up
Recommended For: Ages 12 and up, especially sports fans (not just basketball!)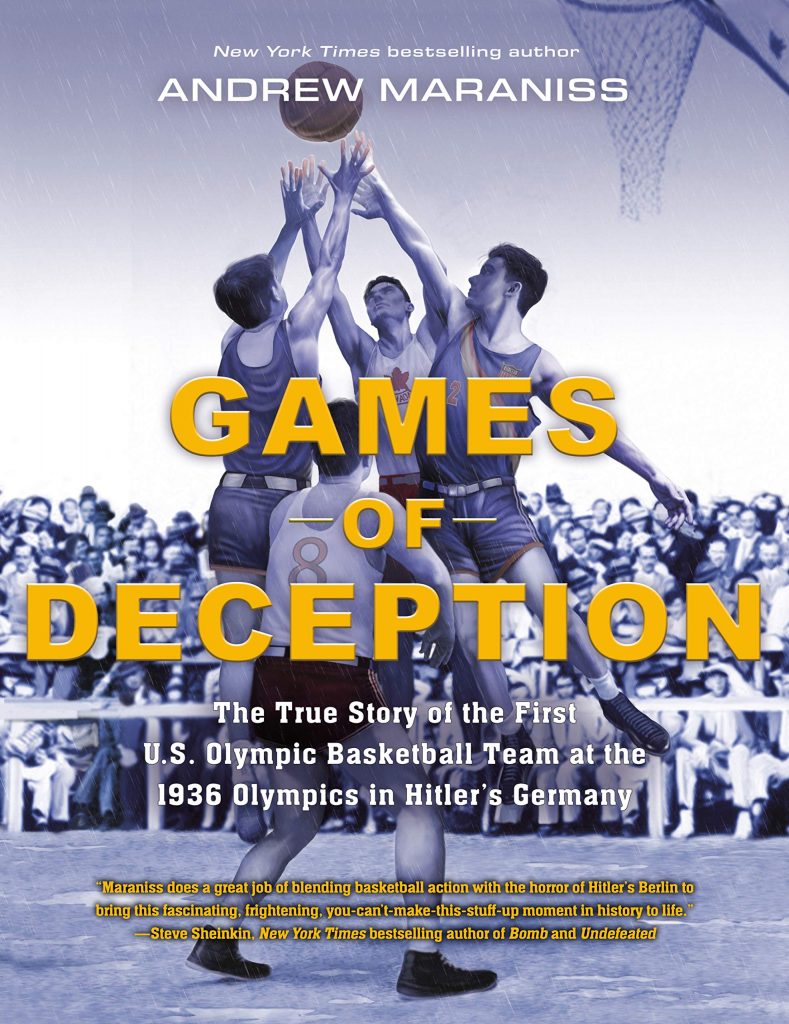 The year Jesse Owens swept track and field and the boys in the boat rowed to victory under Hitler's nose, the U. S. basketball team made their Olympic debut. In 1936, basketball was a mere adolescent, but its founder, James Naismith, had taught his strange new game to future international YMCA leaders. Thus, in the first few decades after the game's invention, the game was already a worldwide pastime. By 1936, enough countries had teams of their own, and enough people lobbied for the game to be included in the Olympic games, that men's basketball became an Olympic event. But the Olympics that year were about far more than basketball or a famous rowing team or an African American winning some races.
Maraniss writes directly and vividly, using remarkably pointed language to paint a picture of both America and Germany during a time period fraught with confusion and tension: "the Hitler youth, a sinister organization that indoctrinated German boys*…." and
Recognizing the contradictions in America between everyday racism and ideals of freedom and equality, the Nazis held out hope in the early 1930s that the U. S. would ultimately join them in a brotherhood of white supremacy. But they profoundly miscalculated and, less than a decade after the Olympics, the Americans and their allies would destroy them World War II.*
Reminiscent of The Land of Hope, Maraniss shows the U. S.'s faults, but he also illuminates its positives. He manages to squeeze in basketball history, Olympics history, the history of recreational sports, American racial tension, European tension, and the story of one U. S. basketball team into a gripping nonfiction narrative. There is much to ponder here for sports fans and students of history alike. Basketball has a remarkable history, and anyone who has played the game will appreciate it a bit more after reading Games of Deception. And those who read it may just watch the next Olympics with a bit more interest in the behind-the-scenes.
Considerations:
The description of the lengths the Germans' attempts to "please" the men's teams (v. their deplorable treatment of the women) includes mentioning prostitutes.
One quoted instance of profanity.
The racial tensions are complex and worth discussing: how did America as a nation, and Americans as individuals, treat Jews and African Americans? How was this different–or the same–as Hitler's own perspective? What is the biblical response?
Did you know about "muscular Christianity"? What do you think about the early YMCA's emphasis on the connection between Christianity and physical fitness? How has that changed today?
Who is the hero in this story? Who were the people standing up for what was right?
Overall Rating: 4 (out of 5)
Artistic/Literary Rating: 4
Worldview/Moral Rating: 4
Related Reading from Redeemed Reader
*please note that I'm quoting an advance reader copy in order to give an example of Maraniss's writing style; the wording in the final copy may differ slightly.
We are participants in the Amazon LLC affiliate program; purchases you make through affiliate links like the one below may earn us a commission.
More than 75 books for children and teens, all about islands, oceans, and more. Bonus: get a free hand-drawn reading tracker!
Reading Ahead for You
Reviews and Resources Weekly in Your Inbox