An alternate version of English history drives Queen of the Sea, a lively graphic novel of political intrigue and warm personal relationships.
Queen of the Sea by Dylan Meconis. Walker Books, 2019, 393 pages.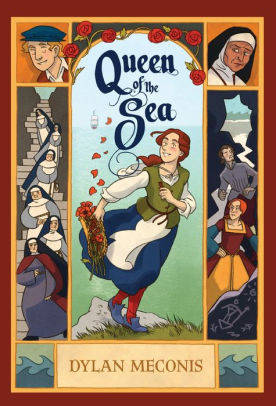 Reading Level: Teen, ages 12-15
Recommended for: ages 12-up
Margaret doesn't recall when she came to live on this Island, since she was only a baby at the time. All the sisters of the Elysian Order remember the day they took in that darling red-headed orphan, because they've loved her ever since, but only Sister Agnes knows the baby's origin, and she's told no one. Margaret is happy on the Island, but longs for another child to play with. When William MacCormick and his mother arrive, under similar mysterious circumstances, their plight reveals something of the political situation in Margaret's home country. Albion. King Edmund has died, and his oldest daughter Catherine has seized the throne contrary to the claims of the king's second daughter Eleanor. William has no use for either of them, since his family rebelled against the king and is only waiting for their fortunes to be restored. This doesn't jibe with what Margaret has always thought of King Edmund, a just monarch from all she's been told. Soon the political intrigue jumps up a notch with the arrival of another exile—none other than the imperious Princess Eleanor, who considers herself the rightful Queen of Albion even though imprisoned by her older sister.
Historical fiction is an unusual genre for a graphic novel; alternative historical fiction still more. Anyone who knows anything of English history will recognize strains of the War of the Roses and the Scottish rebellion in this plot, but mostly the Tudor dynasty after the death of Henry VIII. Catherine and Eleanor reflect Queen Mary and Elizabeth I, and Albion itself is an old Gaelic name for England. This alternate version is as full of intriguing characters and plot developments as the real story, with rich reference to the faith, the sea, the ancient peoples and their folklore that shaped that most consequential island. Though it's a version of Christianity represented here, not the real thing, the Nuns exhibit true Christian virtues and genuine piety which Margaret has learned to imitate. The story ends inconclusively, leading readers to wonder if a sequel is on the way. I certainly hope so.
Considerations
Rather than praying to Jesus, Margaret prays to God, the Mournful Mother, and the Sorrowful Son, and on one occasion calls upon "the Old Ones" of the Island as well. This is in keeping with the superstitions of the time.
Overall Rating: 4.5 (out of 5)
Worldview/moral value: 4
Artistic/literary value: 5
Stuck at home? Enjoy our FREE Christian read-along adventure for all ages with lots of book ideas, discussion questions, and more!
Reading Ahead for You
Reviews and Resources Weekly in Your Inbox