The Mysterious Benedict Society is a clever middle grades mystery series perfect for puzzle-loving tween and young teen readers.
The Mysterious Benedict Society by Trenton Lee Stewart. Little, Brown, 2008. 512 pages.
The Mysterious Benedict Society and the Perilous Journey. 2009. 464 pages.
The Mysterious Benedict Society and the Prisoner's Dilemma. 2010. 400 pages.
The Extraordinary Education of Nicholas Benedict. 2010. 496 pages.
Coming in September: The Mysterious Benedict Society and the Riddle of the Ages. 2019. 400 pages.
Reading Level: Middle grades, ages 10-12
Recommended For: Ages 8 and up
Reynie, Sticky, Kate, and Constance are the four friends who make up the Mysterious Benedict Society. They each passed a series of intricate, challenging tests at the beginning of the first book, and the rest, as they say, is history. Each of the four children contributes unique skills and abilities to their society: Kate moves quickly, is always prepared for any emergency thanks to her handy bucket, and has a good eye for measuring distances. Reynie is a puzzle solving genius, and Sticky has a photographic memory combined with super sonic reading speed. Constance's particular gifts are still coming to light at the beginning of the series. As with many highly intelligent children, these four are all misfits in their communities, and they bond as much over that experience as they do over their successful work for Mr. B.
The Mysterious Benedict Society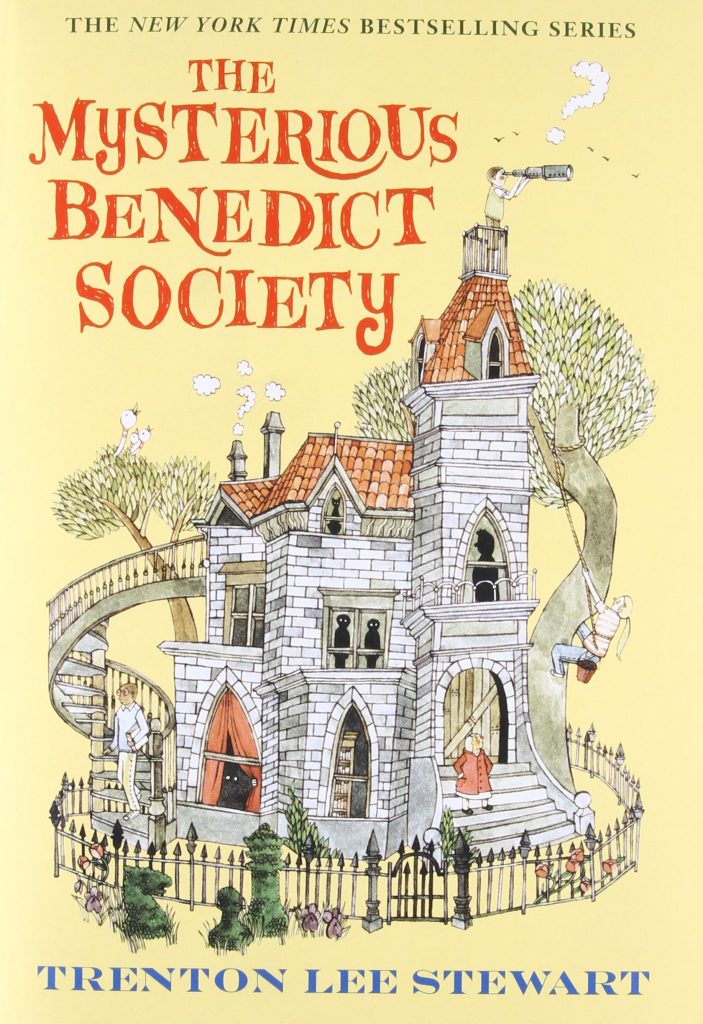 In the first book, Mr. Benedict (the designer of the aforementioned tests) sends the four children undercover to the Learning Institute for the Very Enlightened run by his brother, Ledroptha Curtain, located on Nomansan Island outside the city. All Mr. Benedict knows is that Mr. Curtain is up to something evil. The four children discover quickly enough that "evil" sums it up about right: Mr. Curtain is a creepy villain, and his henchmen are likewise scary and villainous. It's no spoiler to say that the children succeed in uncovering and foiling Mr. Curtain's plans since there are more books in the series! Mr. Curtain may be foiled, but he himself is not apprehended, which leads to…
The Perilous Journey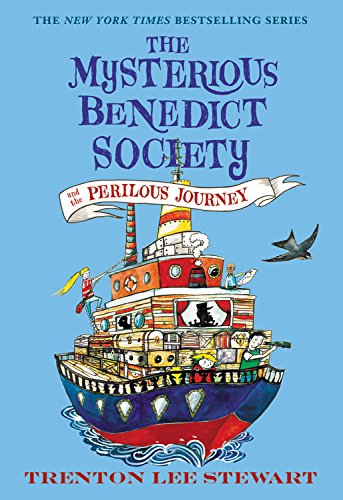 In The Perilous Journey, the four children have been separated for some time and are anxiously looking forward to reuniting in honor of Mr. Benedict and a special new challenge he's got in mind for him. Dastardly fiends intervene, however, and the challenge becomes one of saving Mr. Benedict from his sinister brother instead of merely joining Mr. Benedict somewhere. The four clever friends stop at nothing, including taking a boat to another continent without their parents' knowledge. Thankfully, at least one parental figure is aware of their efforts and steps in near the end of the book to lend a hand. Rescuing Mr. Benedict places them all in the way of several villains (or, villain's henchmen) from book 1. This book feels the most circular as the plot essentially ends where it began with little to no ground gained, other than rescuing Mr. Benedict himself. Once again, Mr. Curtain himself gets away.
The Prisoner's Dilemma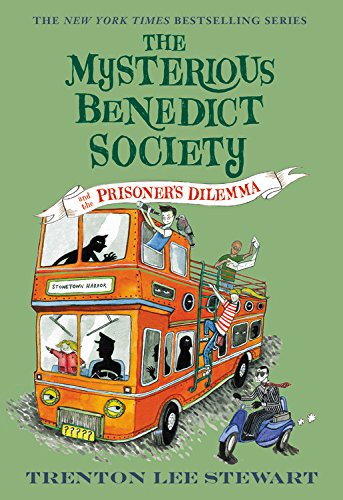 The Prisoner's Dilemma finds Reynie, Sticky, Kate, and Constance living with Mr. Benedict and their assorted parents all in one house for the sake of safety. After all, we've learned that Mr. Curtain is the nefarious sort who stops at nothing to achieve his goals. This time, the children are eventually taken prisoner, and it's up to Constance and her newfound ESP talents to help save the day. This third installment is even more over the top than the previous two, but it also has a bit more "oomph" in the plot than does book 2. Fans of the series will be glad they've read it.
The Rest of the Series
The Extraordinary Education of Nicholas Benedict is a prequel of sorts. At this writing, I haven't read it, but my 12-year-old son assures me it is better than books 2 and 3. The fifth book in the series, The Riddle of the Ages, comes out this September!
The Series as a Whole
All in all, the Mysterious Benedict Society books are a lot of fun, particularly for kids who enjoy solving puzzles themselves and who like books that could take place in the real world. (It's doubtful that these stories could actually take place, but they are set in the real world and there is no outright magic or any made up creatures.) Stewart doesn't talk down to his young readers and assumes that they will be able to figure out both the plot and any vocabulary or allusions he may throw their way. The books are complex in plot and details, but not overly difficult to read. Thematic ideas include the importance of family and community, the importance of both being yourself and accepting others as themselves, and the necessity for all to work together to defeat evil.
Stewart created a gem in the first book: it's intricately plotted with interesting characters, plenty of clever puzzles for readers to noodle over as they read, and has a satisfying ending. Truly sinister villains, loving parental figures, and a strong bond of friendship amongst the society members make this a perfect fit for tweens and young teens. The second and third books ride the coattails of the first and feel a bit derivative but will appeal to fans nonetheless.
Young fans may want to check out the puzzle book that goes with the series for more clever brain twisters. Most libraries will have the series on hand, but you may wish to buy them for slower readers as each weighs in at 400+ pages.
As with all series still in process, we cannot speak to the content yet to be published, including the forthcoming book 5 due out in September. Let's hope Mr. Stewart continues to write solid, engaging material for his many young fans!
Mysterious Benedict Society fans might also want to check out Trenton Stewart's book The Secret Keepers. If you've got a young mystery fan at home, don't miss our giant Mystery Book List!
Are YOU a fan of the Mysterious Benedict Society? Let us know in the comments!
Stuck at home? Enjoy our FREE Christian read-along adventure for all ages with lots of book ideas, discussion questions, and more!
Reading Ahead for You
Reviews and Resources Weekly in Your Inbox