Sparky & Spike is about a boy and his dog and the genesis of the world's best-loved comic strip.
*Sparky & Spike: Charles Schulz and the Wildest, Smartest Dog Ever by Barbara Lowell, illustrated by Dan Andreasen.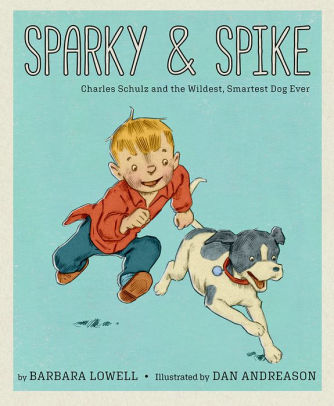 Reading Level: Picture Book, ages 4-8
Recommended for: ages 4-10 – and all adults who love Peanuts
"Sparky's dog, Spike, is a white dog with black spots.  He's the wildest and smartest dog ever."  Wild, perhaps because he has an unusual capacity of swallowing sharp things without any apparent damage.  Smart, because he knows over fifty words and can fetch anything his master commands him to fetch.  Sparky's real name is Charles, and besides his dog and parents, he loves the comics. He's also pretty good at drawing and has already decided he wants to draw comics for a living.  He even draws his dog and sends it to a Sunday comic feature, "Ripley's Believe It or Not!"  But will he ever see his work in the Minneapolis paper?
I suspect picture books about musicians and artists from 40-50 years ago will have limited appeal for their target audience. But Peanuts comic strips are still featured in a lot of Sunday papers and Snoopy (a white dog with black spots) is still a cultural icon. The affection felt by author and artist for their subject is evident on every page—the Illustrator's Note even shares a facsimile letter sent by Charles Schultz to Daniel Andreasen in 1972, offering advice to an aspiring artist: "Draw as much as you can and read as much as you can." But even for kids who have never seen a Peanuts strip, the sweet tone and captivating dog story will appeal.
Overall Rating: 4.75 (Out of 5)
Worldview/moral value: 4.5
Artistic value: 5
Stuck at home? Enjoy our FREE Christian read-along adventure for all ages with lots of book ideas, discussion questions, and more!
Reading Ahead for You
Reviews and Resources Weekly in Your Inbox