This brand-new Children's Edition of the New American Standard Bible is a must-have for NASB users.
NASB Holy Bible, Children's Edition, Three Sixteen Publishing, 2019, 1391 pages. (Text size: 10 point)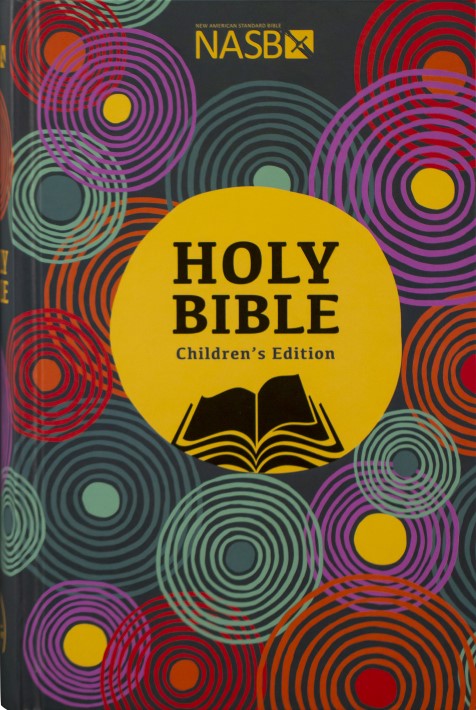 Reading Level: Teen, ages 12-15
Recommended for: ages 7-13
Why so few children's editions of the NASB? My guess is that no designated publisher holds the copyright, and therefore there's little profit motive. Also, the NASB, though prized for its accuracy and "formal equivalence" translation philosophy, is not the most read (or readable) translation. So it's about time for this brand-new Children's Edition.
The NASB Children's Edition is an exceptionally handsome product, with an attractive abstract cover design, a generous text size, two-column verse format, and 76 original, full-page, full-color illustrations of Bible stories with scripture references (including pictures of Jesus). Rather than in-text features, the study helps are all located in the preface and appendix. These include one-paragraph introductions to each book of the Bible, grouped together in one section; a lengthy 120-page topical index; a New Testament Reading Plan; 10 pages of memory verses grouped by topic; and personalized pages for kids to write out their own favorite Bible passages.
If the NASB is the preferred text in your family or church, this edition is a must-have.
Value Rating: 4.5 (out of 5)
More than 75 books for children and teens, all about islands, oceans, and more. Bonus: get a free hand-drawn reading tracker!
Reading Ahead for You
Reviews and Resources Weekly in Your Inbox