Then end of the year is the beginning of buildup to the annual American Library Association (ALA) "Youth Media Awards," culminating in the announcement of the year's coveted Newbery medal.  Library websites and mock Newbery candidates give us an idea of what's being talked about, and at Redeemed Reader we try to at least give the top contenders a look.  Some of these are excellent and many are good as literature but problematic from a Christian worldview.  That doesn't mean they aren't worth reading—some of them might be good discussion starters. With that in mind, here's our roundup of books that may very likely be winners of the top prize or the honor list, along with pros and cons.
Front Desk by Kelly Yang.  Scholastic, 2018, 286 pages.
The author includes many of her own childhood experiences as an immigrant Chinese, moving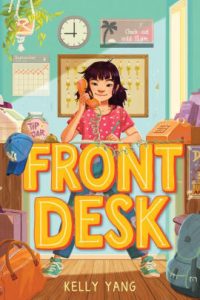 with her parents to Los Angeles in the early 1990s.  Mia, the narrator, misses her home terribly and doesn't see why they had to move.  "Because it's freer here," her mother explains.  But nothing is free!  Everything is terribly expensive and the family has no money, even after taking a job as managers of the Calivista Motel.  There they are exploited by the owner, an immigrant himself (from Taiwan), and Mia gets a first-hand look at the dark side of America, chiefly the bigotry, the hustle, and the crime.  But she also makes some close friends among the "weeklies" (long-term residents), a diverse group of races and backgrounds that she would never have encountered in her home country.  And in the end, the American dream leaves her room for a dream of her own.
Pro: A sprightly, engaging first-person voice; much humor along with the grimmer events.  The portrait of America turned out to be more nuanced than I expected: not the promised land, but turns out it actually is "freer here."
Con: Too much profanity, of the "omg" sort; one disturbing incident of violence (which the author says actually happened)
Overall rating: 3.75 (out of 5)
Harbor Me by Jacqueline Woodson.  Nancy Paulsen Books, 2018, 192 pages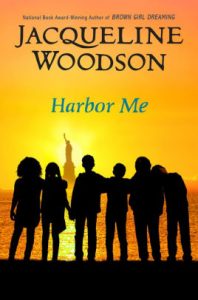 At the beginning of the school year, Ms. Lavern told her "special" class of sixth-graders to go to the art room.  There, she said, the kids were to spend some time each day just talking to each other.  Resistant at first, they begin to gel around small, shy Esteban, whose father was taken away by ICE agents.  One by one, stories of pain come out: Amari's dad has given him "the talk" about black kids and cops.  Ashton, the only white kid, is bullied.  Tiago thinks he's dumb and Hayley, our narrator, is afraid to talk about her mother who is dead, and her father, who is in jail because of it.  The story could have turned into a grievance fest, but it's more balanced and thoughtful.  The kids are given an opportunity to work out problems in their own way and in the process learn to sympathize with each other.
Pro: Everything by Jacqueline Woodson is well-written–she's a master at packing in emotion with artful economy.  Letting these kids talk builds sympathy not only in each other, but also in the reader.  The view of America that emerges is actually more positive than in similar stories.  Esteban's papi—the deported one—is the most positive of all!  (though that may be self-consciously ironic?)
Con: The overall tone is thoughtful to the point of melancholy, given the tragic circumstances of some of the characters.  The kids share some leftwing assumptions about politics, immigration, and race relations (it's New York City, after all!), but in a way that encourages readers to think about these things. There's some "omg" profanity from one of the characters, and exclamations of "jeez" from several.
Overall rating: 4
Finding Langston by Lesa Cline Ransome.  Holiday House, 2018, 104 pages.
Langston misses Alabama: the red dust, the warm air, the quiet nights.  Chicago is not home,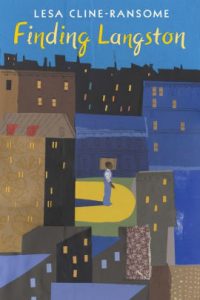 but it's Daddy's best option for work now that WWII is over and the white men are coming back home.  And now that Mama's dead, maybe no place would feel like home.  One day, while taking the long way home from school to avoid the bullies who beat him up, Langston encounters the public library.  Libraries are only for white folks back in Alabama, but the doors seem open, so he goes inside, and there encounters the words of someone with the same name: Langston Hughes.  Reading the poet's words about missing his southern homeland, the boy has a revelation: "that someone else knows what it's like to be . . . you."
Pro: The story is small but intense, gemlike in its focus on one boy and his encounter with a bigger world.  Enlarging a narrow, personal perspective something every young person must learn to do, whether through work, family, faith, or knowledge.  Langston does it through literature.
Con: But literature is not sufficient.  Langston and his father go to church  out of habit, not faith; both have a grudge against God for taking Langston's mother.  That's realistic, and worth thinking about.  Whether they return to God is an open question, but the poet may help with that too.  The somber tone may be too much for readers who like their stories light.
Overall rating: 4
That's enough for one post!  We'll wrap this up next week.
Please follow and like us: