It's that time again!  Children's book titles are pouring into every librarians' website as the kidlit community speculates on who will win Newbery gold this year (announced on January 28).  At Redeemed Reader, we're no exception.   Every Newbery committee is different and it's almost impossible to predict what will tickle the panel's fancy (or prick their social consciousness) this year.  But we try.
We've seen several titles show up again and again on various handicapping sites, and some of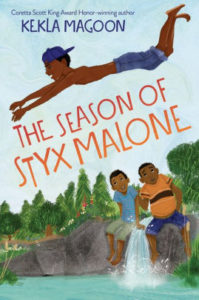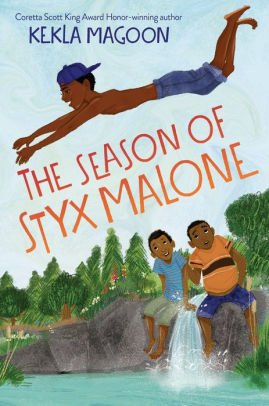 them we've reviewed favorably.  Today we're taking a second look at The Season of Styx Malone* by Kekla Magoon (Amazon's "Best Book of the Year" for children ages 9-12).
Janie: Caleb and his brother Bobby Gene live a quiet small-town life because their father doesn't want to call attention to himself or his family.  That family is African-American, and we gather that Dad's fears stem from racial incidents in the news.  But the story isn't about race, it's about significance.  Caleb, the narrator, chafes under all the restrictions and can't wait to fly out of Sutton, Indiana, and make a name for himself.  When the brothers encounter Styx Malone, a 16-year-old foster kid who just moved nearby, Caleb is dazzled with Styx's style and ambition.  But hitching his wagon to this star turns out to be risky, especially where legality and ethics are concerned.
I liked this book a lot, in spite of a instances of questionable language.*  I found the voice engaging and fresh, and all the characters seemed to have a life off the page.  I think it raises an issue seldom addressed in children's literature: How to you get to "be somebody"?  I relate to Caleb personally, because I, too, felt insignificant while growing up; I continually daydreamed about being famous.  The story also raises questions about identity and foundations.  Styx believes "Only person you can ever count on is yourself."  But he recognizes that a self can be shifting sand: "Everybody fights themself," he says later.  "It's the human condition."
I gather you weren't quite as impressed as I was, Betsy.  What do you see as the story's virtues and drawbacks?
Betsy: I did like the book, Janie, but it didn't overwhelm me with awesomeness. I think that's partly due to the first person narrative. I've read a lot of first person narratives this fall; they're becoming increasingly common. You can chalk that up to my jaded reviewer's eye! I was very glad the title character wasn't the narrator—Caleb's reflections and reactions lend the perfect air of mystique to Styx's character. I do love the questions the story raises, and I liked the dynamic between Caleb and his brother Bobby Gene. I think those same sibling tensions are common in most families with siblings close in age: one sibling is more content or "mellow" than the other, one is more of a rule follower than the other, one seems to have a better relationship with or "get" the parents more than the other, and so on. Despite their differences, the brothers really have each other's backs in sticky situations (and sticky situations abound when Styx is around). What did you think about their family dynamics, particularly as a foil for Styx's own background?
Janie: Great question, Betsy.  Styx, as mentioned above, is a foster kid and four years older than Caleb.  At that age, four years is a huge difference.  Yet Styx seems to gravitate to younger kids, as reflected in his relationship to his stepsister.  That's probably because he feels he can control them, and never be intimidated by them.  In spite of his flash and self-assurance there's a core of insecurity, owing to an unstable upbringing in serial foster homes.  He's determined to rely on himself alone, but nobody can really do that.  A certain ambivalence emerges in his relationship to the boys' parents.  He's very good at schmoozing adults, but he's sincerely drawn to their family life.  Still, he doesn't trust anybody, and this leads to serious consequences.  In spite of the serious theme, the tone never feels weighted or depressing—at least not to me, anyway.  What do you think about the way the author balanced a weighty theme with lighter tone?
Betsy: That's a good description, Janie, of Styx's relationship with the boys' parents: ambivalent. I think the role the parents play in the story actually helps ground the story quite a bit, making it more hopeful that it might be otherwise. Because there is a stable family complete with all its quirks and issues, Styx's lack of family stability is both more poignant and more hopeful. The reader knows that loving families are possible and that Caleb and Bobby Gene's parents are always there for them—and their friends—even when the boys are in serious trouble. Little details, like the boys psyching themselves up to break their piggy banks or the way Styx handles his first hot dog cookout, often break the tension in the story even as those same details bring the characters into sharper focus. I thought the ending was a near perfect conclusion to the book: there's hope, but it's not necessarily a smooth ride ahead. This sort of story would have been easy to wrap up too neatly, but the author handled it just right. What did you think?
 Janie: As the story drew near its end, I was wondering how to conclude on an optimistic note without sounding pat (i.e., what Caleb and his brother wanted to happen).  But I agree with you—of all options, what happens is probably the best for all concerned.  One thing I didn't mention earlier: there's a "bully" character in the story, and he turns out to be as well-rounded as the other characters.  Even a friend, at the end.
Thanks for the discussion, Betsy!  In a few days, Megan and I will be talking about The Book of Boy.
*Please see the linked review for language cautions.
More than 75 books for children and teens, all about islands, oceans, and more. Bonus: get a free hand-drawn reading tracker!
Reading Ahead for You
Reviews and Resources Weekly in Your Inbox