This historical novel for teens speculates on a maid who influenced steel magnate Andrew Carnegie to become a philanthropist.
Carnegie's Maid: a Novel by Marie Benedict.  Sourcebooks, 2018, 352 pages
Reading Level: Teen, ages 12-15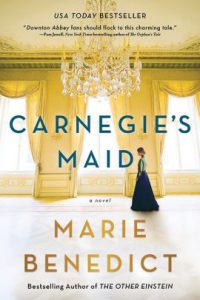 Recommended for: 12-up
Clara Kelly knew it was a risk, sailing to America while that nation is engaged in Civil War.  But things aren't rosy in Ireland either, where her family is engaged in a struggle to keep their land.  Sending Clara to America is a strategic move: if she can get a position in a factory or household, drawing on the connections of her cousins in Pittsburgh, she might be able to send surplus wages back to the family to help them get by.  If her name were not so common it would have happened that way, but there's another Clara Kelly on board—or there was, until she died or disappeared.  When the passengers arrive in Philadelphia, Clara answers to someone calling that name and finds herself in a coach headed to Pittsburgh.  The assumption is that she's to be a lady's maid.
Not just any lady: the august Mrs. Carnegie, herself a Scottish immigrant whose gifted son Andrew is steadily lifting the family through the ranks of the nouveau riche.  Fortunately Clara is a quick study and well read, or she would never be able to pull off the role of a genteel maid.   And Mrs. Carnegie is quite demanding in herself.  But her son, Andrew, is outgoing and witty with kind eyes and a steel-trap mind.  Under his focused, sometimes ruthless gift for making money Clara suspects better impulses, if only she can draw them out.  And if only her secret is not discovered.
Straightforward historical fiction for teens is rare these days—there's usually some fantasy or dystopian element tucked into historical fact—so Carnegie's Maid is a welcome addition to the YA shelves.  Besides its historical accuracy (except for the invention of Clara Kelly), it's also free of bad language and sex.  The writing style is somewhat clunky with the recurring fault of using dialogue to communicate exposition, and most of the characters, except Andrew Carnegie and his mother, don't particularly stand out.  But Clara herself reveals a strength of character that many contemporary female protagonists lack.  While not particularly religious, she reflects a culture that still honored duty and self-sacrifice.  Did she steer a potential robber baron onto the narrow road of social responsibility?  Let the reader decide.
Cautions: None
Overall rating: 4 (out of 5)
Worldview/moral value: 4.5
Artistic value: 3.5
Please follow and like us: