What if God took the very instrument that caused your suffering and turned it into a tool of blessing for many?
Six Dots: A Story of Young Louis Braille by Jen Bryant, ill. by Boris Kulikov. Alfred A. Knopf, 2016.
Reading Level: Picture book, ages 4-8
Recommended For: Ages 4-8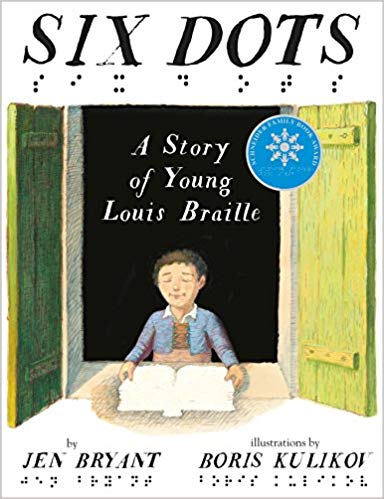 The warning of every parent to a young child playing with a sharp object was tragically fulfilled when Louis Braille was young: he was blinded by an awl and ensuing infection. Refusing to wallow in self-pity, his curiosity and determination led him to use an awl to make letters his fingers could read much more efficiently than the limited options available.
The story is told from Louis's perspective, childlike and engaging. Not satisfied with using echolocation to avoid walls and large letter shapes, he dreamed of being able to write letters and read books longer than just a few sentences. When he went away to a school for the blind, he learned about a code system used by the French army to communicate on the battlefield
Cautions: none
Overall Rating: 4.5
Artistic Rating: 4.25
Worldview Rating: 4.75
For other picture book biographies, see our massive booklist!
Support our writers and help keep Redeemed Reader ad-free.