This fascinating true account of a prison escape during World War I will keep readers on the edge of their seats.
The Grand Escape: the Greatest Prison Breakout of the 20th Century by Neal Bascomb.  Scholastic, 2018, 229 pages plus appendices.
Reading Level: Teen, 12-15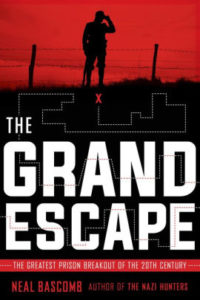 Recommended for: 12-up
This Sunday marks the centennial of Armistice Day, when a truce was finally called on the bloodiest war fought up to that time.  The Great War, later demoted to World War I by sad necessity, marked many firsts, including air combat.  The combat pilots were daredevils, taking to the sky in planes less than 20 years removed from Kitty Hawk.  A pilot in the Royal Flying Corps faced scant odds of surviving past a few weeks at the front, but if shot down in enemy territory his problems had just begun.
Pilots like Cecil Blain, Charles Rathbone, and David Gray had broken out of more than one prison camp—earning the title of "escape artists"—only to be caught and transferred to another.  Now they, and other Allied prisoners, found themselves in Holzminden, a new prison far from the border of free Holland, ruled by a sadistic commandant who vowed no prisoner would ever escape his camp.  But never say never to an escape artist!
Readers who have seen the classic 1967 movie The Great Escape will notice some similarities to the attempt made at Holzminden in August 1918.  The movie was based on fact (and a later war) but The Grand Escape tells, with nail-biting suspense at times, a story that's 100% true.  The opening chapters are a bit slow while characters are introduced and funneled into the prison camp, but once the plan is underway it picks up intensity like the best of heroic tales.  Maps and diagrams help readers visualize a complicated scheme.  Boys, history buffs, and adventure fans will devour it.
Cautions: Mild language (one instance of the d- word)
Overall Rating: 4.25 (out of 5)
Worldview/moral value: 4
Artistic value: 4.5
More than 75 books for children and teens, all about islands, oceans, and more. Bonus: get a free hand-drawn reading tracker!
Reading Ahead for You
Reviews and Resources Weekly in Your Inbox