*Rabbit and Robot: The Sleepover by Cece Bell. Candlewick, 2014. 50 pages.
Reading Level: Easy Readers, Ages 4-8
Recommended For: Age 4-8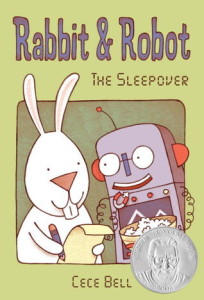 Rabbit's friend Robot is coming for a sleepover, and Rabbit has plans: make pizza, watch TV, play "Go Fish," and go to bed. Instead of being annoyed with Rabbit's demands that his list be followed perfectly, Robot graciously accommodates his friend. Robot tops his pizza with nuts and bolts instead of carrots and lettuce, finds the lost remote even when Rabbit won't listen to him, and finally gets to play "Old Maid" instead of just "Go Fish." After reviewing the evening's data, Robot concludes that "Today was a good day."
This is a great book for an emerging reader who is gaining confidence, especially a child who loves robots. Each chapter is delightful, and the artwork is both expressive and simple. Robot's kindness to Rabbit is endearing, and the humorous dialogue makes this a pleasure to read again and again.
Cautions: none
Overall Rating: 4.5 out of 5
Worldview Rating: 4 out of 5
Artistic Rating: 5 out of 5
Categories: starred review, Easy Readers, Humor, Character Values
Cover image from goodreads. 
*indicates starred review
Please follow and like us: