Preparing for Jesus is a fresh, imaginative Advent devotional that looks at each of the biblical characters in the Christmas story, trying to learn from them and anticipate Christ's birth with them.
Preparing for Jesus: Meditations on the Coming of Christ, Advent, Christmas, and the Kingdom by Walter Wangerin, Jr. Zondervan, 2011. 202 pages.
Recommended For: Older teens and adults who want a fresh, imaginative Advent devotional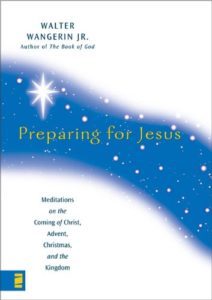 What did Elizabeth think when she found out she–at her age–was finally going to have a baby? What about Mary, a young, unwed teenager? How did she respond to news of her pregnancy? Did either of them respond like Sarah, in Genesis? And what about Joseph, finding out about his betrothed's surprise pregnancy–it certainly wasn't his baby. What can we learn from these faithful servants? How do their responses to God's work, their experiences of God's work in their lives, offer us examples in our own responses to God's work?
Wangerin looks at the key players in the Christmas story in turn, beginning with Zechariah. Every few days, he moves to the next character, continuing through the traditional 12 days of Christmas with such figures as Anna and Simeon. Some days are directed to the character him- or herself as Wangerin muses over what they were thinking and feeling. Some are more directly "teaching" days when Wangerin turns his attention to us, the readers.
But here is the first of our lessons today: that God does not forget our prayers. It is in the fullness of time that he answers them. He answers in that rich kairos, when to answer at all does the most good for the most people!
Wangerin is a talented author in his own right, and he brings to bear his artistic abilities in this Advent devotional, using arresting language, thoughtful statements, and storytelling ability to bring the Nativity story to life. Not every reader will want an imaginative, reflective treatment of the Christmas story, but Wangerin's approach might be just the thing for those who've grown up hearing the Christmas story in the same format year and after and have forgotten the wonder of it. Readers will come away after a season with Wangerin with a renewed appreciation for both the joy and the hardship of the Nativity. They might just be more excited about Christmas itself, and the reflections for the 12 days after Christmas help move the reader into the new year, still reflecting on Christ and his birth.
Note: Because Wangerin is such an effective author and because he is imagining what some of the characters may have thought/felt/experienced, it is wise to give this to mature believers who already know the biblical account well. He also imagines Christ's birth in the stable, which definitely happened (!), but which younger teens may not be ready to read about. It is tastefully done, but worth knowing about in advance. Wangerin is not heretical, but we must be careful when we try to put ourselves in the shoes of someone who lived 2000 years ago in a different culture!
More than 75 books for children and teens, all about islands, oceans, and more. Bonus: get a free hand-drawn reading tracker!
Reading Ahead for You
Reviews and Resources Weekly in Your Inbox