Kids banding together to help one another, particularly if the grown-ups are somehow unavailable = the biggest common denominator in middle grade fiction. Not every book fits this oversimplified definition, but many popular middle grade fantasy series certainly do.
Middle Grade v. YA Books
And what distinguishes a middle grade book from a teen (or YA/young adult) book? The middle grade books end up with kids and grown-ups reunited, or at least with more understanding of one another. Endings bring closure and satisfaction, security even. The protagonist usually ends up home in middle grade books, even if that home is a new place. Bonus if the book features a group of companions who are all supporting one another despite–or because of–their unique gifts and differences. Think of this as a child's first community distinct from that of parents/grandparents.
In contrast, YA books feature protagonists coming-of-age and moving off on their own. The protagonist has more separation from nearly everyone around him or her as self identity becomes more critical.
Consider: in Anne of Green Gables, Anne and Diana support one another as kindred spirits and bosom friends, but the book ultimately brings Anne and Marilla together in Anne's new home: Green Gables. The first volume is middle grades. The remaining books in the series grow progressively more "YA" as Anne herself matures; eventually, she leaves Marilla and Green Gables and starts her own home.
Or, Bilbo, in The Hobbit, is going "there and back again," while Frodo ends up moving on to the Grey Havens at the end of the Lord of the Rings. Bilbo and the dwarves form an unlikely, but solid, companionship. Frodo, in contrast, grows to appreciate Sam more, but knows he is carrying a burden Sam cannot share.
When you start to think about middle grade books in these terms, the allure of such popular series as those listed below makes perfect sense: Protagonists must fend for themselves, figuring out how to survive and thrive without much direct intervention by grown-ups. Peers provide the biggest support network as they create a home and community together. The "kids" in the books often long to be more united to the "grown-ups" in their lives; they aren't quite ready to fully leave home and be on their own.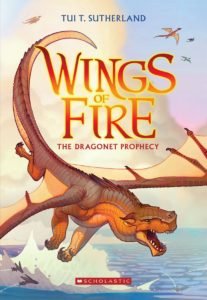 Wings of Fire: The Dragonet Prophecy by Tui T. Sutherland. Scholastic, 2013 (reprint). 336 pages.
Clay and the other four dragons of prophecy are each from a different dragon species and are destined to restore the dragon world to order. Unfortunately, not all the warring dragon rulers see this as a good thing. In volume one, Clay and his fellow dragons of prophecy manage to escape their controlling, protective shelter, seeking to act on their own. Alas, this only leads to deathly dangerous situations, dragon conflict, and run-ins with truly bloodthirsty types. Strong community and "helping one another" themes make this an irresistible book for many middle grade kids as a fast-paced plot and unique characterization hook them on page one. Note: this series is violent; when dragons fight, it's dramatic. Each volume in the series is told from the perspective of a different dragon. This is only a review of book one. Ages: 10-12 and up.  Note: A graphic novel version of Wings of Fire: the Dragonet Prophesy is now available, with lots of fire, some dragon blood, and claws out! Note, too, the conversation in the comments below about some of the later books in the series.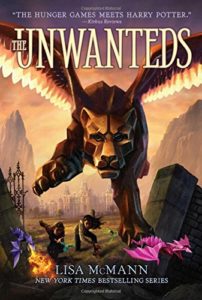 The Unwanteds by Lisa McMann. Aladdin, 2012 (reprint). 416 pages.
Dystopia for kids, the Unwanteds are the artistic, creative kids who've been culled from the, um, Wanteds. Instead of the anticipated death, however, the Unwanteds are preparing for the future battle with the Wanteds. Clever and a good introduction to dystopian fiction, this series has some interesting thematic elements (such as the importance of art and creativity). A community bands together, helping one another no matter what, against the evil government. For a more extensive review, see Janie's Unwanteds review.  Note: the sequel series, The Unwanteds Quests appears to be more mature in themes; it changes the happy/satisfying ending of the first series. Ages: 8-12.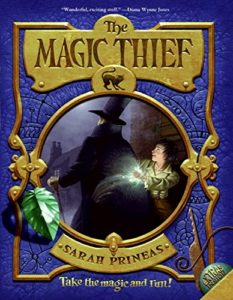 The Magic Thief by Sarah Prineas. HarperCollins, 2009 (reprint). 448 pages. 
The Magic Thief is a clever young man by the name of Connwaer (Conn, for short). After he tries to steal the magician Nevery's locus magilicus stone without dying in the process, Conn ends up as Nevery's apprentice. Clearly, he is no ordinary thief. Conn is not an ordinary magician's apprentice either. He can talk to the magic that controls his city Wellmet; there are other magics out there, too, with which Conn can communicate. When disaster of a magical sort threatens to destroy Wellmet, Conn is key to the city's defense, even though most of the city's magicians think he's trouble. No spoilers here, but the ending to the series is just sweet and satisfying enough to provide perfect closure. Distinctive characters, terrific world building, and enough intrigue to keep any reader's attention make this series a sure winner with middle grade kids who enjoy magical stories. Ages: 9-12.
Have you, or your kids, read any of these series? What did you think? Which is your favorite?
Support our writers and help keep Redeemed Reader ad-free.