In the fourteenth of our series of previously-unpublished posts, Gladys Hunt makes a list of her most-favorite recent picture books to check out at the library.
One Your Next Trip to the Library by Gladys Hunt
Take along a list when you go to the library.  I like it that many people take along a copy of my Honey for a Child's Heart for reference.  A library can be overwhelming.  So many books! Where does one begin to look?  And because even the time of childhood is limited, choosing the best of what is available makes sense. Just because thousands of books are published doesn't mean that all of them are of equal value in furnishing your child's mind and heart.
Here are some recently published books for primary and pre-schoolers that you may want to ask the librarian to find for you.
The Lion & the Mouse, illustrated by Jerry Pinkney, Caldecott winner for 2009..  Except for a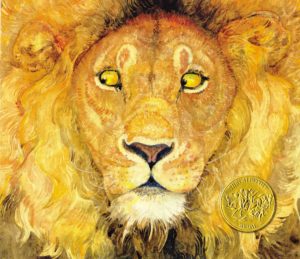 few sound effects, this is a wordless retelling of an Aesop tale, The vivid watercolors powerfully narrate the story, set in the Serengeti Plain. The cover shows a regal lion and an anxious mouse—no title. The mouse, having just escaped an owl, makes the mistake of running up the lion's back in its getaway.  Over the next three full spreads, the lion's decision to let the mouse go is made eloquent by being wordless. When the grateful mouse takes on the tough knot of a hunter's rope which entangles the lion, your children will recognize beauty, courage, bravery and kindness—the moral of the wordless tale.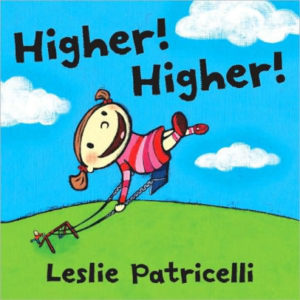 Higher! Higher! Written and illustrated by Leslie Patricelli.  It's about a small girl and a swing. The swing goes higher and higher—past rooftops, clouds and out into space.  It's an adventure combined with security, since all the while the girl is tethered to earth. The artwork consists of cheerful cartoon-like acrylics.
The Sleepy Little Alphabet: A bedtime story for Alphabet
Town by Judy Sierra, illustrated by Melissa Sweet.  Twenty-six little (lower case) alphabet children try to avoid bedtime while the adults (capital letters) try to get them into bed.  The colorful letters have big round eyes, short limbs and plenty of attitude.
The Mitten retold by Jim Aylesworth and illustrated by Barbara McClintock. This is an old tale of a lost mitten that keeps a number of animals toasty and warm in the snow—at least for a while.  You may already have enjoyed Jan Brett's popular version of this old Ukranian story. (Adults love Brett's lush borders.) Don't let that familiarity keep your children from enjoying Aylesworth's polished and well-paced version with its precise details. McClintock's energetic pictures are explosive in the end.  Children will love the humor these two have put into this story—both in the words and the expressive faces of the animals.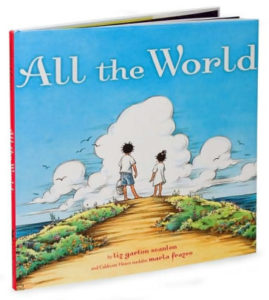 All the World written by Liz Garton Scanlon, illustrated by Marla Frazee.  This picture book is child-friendly and reminds one reviewer of the simplicity of Margaret Wise Brown.  A family stops at the beach, visits a farmer's market, a park and a café. The pictures tell us that "the world is so full of a number of things." Frazee's wonderful skyscapes and portrayals of young and old fit well with Scanlon's warm and poetic text.
At RedeemedReader: see our reviews of The Lion and the Mouse, as well as Jerry Pinkney's other illustrated fable, The Grasshopper and the Ants. Also, enjoy Megan's satirical take on "How NOT to Read a Picture Book" (with more great picture-book suggestions)!
Gladys Hunt wrote these blog posts for Tumblon.com, a web app that helped parents understand children's development. Graham Scharf, one of the co-founders of Tumblon, has granted permission for these posts to be published here to achieve Gladys's aim: for children and their parents to explore and enjoy great books together.
Please note: all affiliate links benefit Redeemed Reader and help us continue to offer opportunities like this!
Support our writers and help keep Redeemed Reader ad-free.