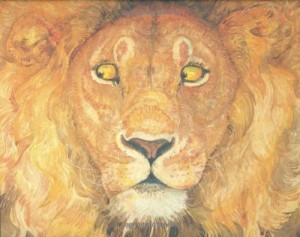 *The Lion and the Mouse by Jerry Pinkney. Little, Brown, 2009. 40 pages.
Reading Level: Picture Books, ages 4-8
Recommended For: All Ages
Stunning illustrations, a vast African savannah setting, and perfect pacing make this picture book a true delight. As is typical of Pinkney's art, the story begins on the front endpapers with a sweeping panorama inspired by the Serengeti and teeming with life. The title page brings the reader in close; a little mouse perches in the giant footstep of the king of beasts. The story continues in this vein, building slowly until the climactic scene of the lion caught in the hunters' net. Mixing panel illustrations with full-bleed, two page spreads, Pinkney deftly shows the difference between the mighty king of beasts and the diminutive field mouse.
This fable is a powerful one even without Pinkney's rich, evocative illustrations. The strong and mighty laying aside its "privilege" to let the weak escape; the weak, in turn, proving that even small creatures have gifts and can serve. Pinkney adds in families for both lion and mouse which serves to enrich the storyline. The final endpapers show a new relationship between the two family units–and perhaps a picture of a time still to come when lions will lay down with lambs and other helpless creatures.
Cautions: none
Overall Rating: 5
Worldview Rating: 5
Artistic Rating: 5
Categories: Picture Books, Starred Review, Folk and Fairy Tales, Animal Stories, Award Winners
*Indicates starred review
cover image from amazon
More than 75 books for children and teens, all about islands, oceans, and more. Bonus: get a free hand-drawn reading tracker!
Reading Ahead for You
Reviews and Resources Weekly in Your Inbox