John Newton's colorful life is a welcome addition to the Reformation Heritage series of Christian biographies.
*John Newton by Simonetta Carr.  Reformation Heritage, 2018, 63 pages.
Reading Level: Middle grades, 8-10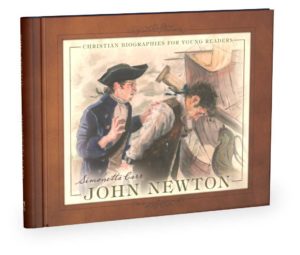 Recommended for: ages 8-14
Most of our readers—I assume—know that John Newton participated in the odious slave trade before he was redeemed by Christ.  As this biography makes clear, his conversion was not a single shattering moment but a series of steps, setbacks, new starts, and lapses culminating in one glorious work of God alone.  If any life testifies to the truth that a man can't save himself, it's John Newton's.  Raised by a pious mother who died when he was only seven, Newton never quite forgot his early training but allowed it to molder in the back of his mind while he pursued a series of dead ends.  His father, a ship captain, pulled strings to launch his son on a naval career, but the boy's constant drinking, swearing, and insubordination kept him from advancing.  He met his future wife while still very young, and for her sake made several resolutions to clean up his act, but they all failed until Amazing Grace intervened.
Like all the biographies in this series, the book is beautifully produced, with original artwork, thick glossy pages, and helpful appendices, including a timeline, interesting facts, and excerpts from Newton's original writing.  In addition to the hundreds of hymns he wrote, most of them with William Cowper, he published several volumes of letters, one of which is reproduced in the appendix.  John Newton is a fine addition to your biography library.
Cautions: None
Overall rating: 4.75 (out of 5)
Worldview/moral value: 5
Artistic value: 4.5
Reading Ahead for You
Reviews and Resources Weekly in Your Inbox