A coloring book for elementary through middle grades offers a sweeping view of church history, from the first century to the twentieth.
A Colorful Past: a Coloring Book of Church History by William Boekestein, drawings by Naomi Kamphuis.  Reformation Heritage, 2018, 44 pages
Reading Level: Middle grades, ages 8-10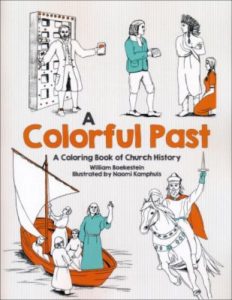 Recommended for: Ages 6-12
October is traditionally church history month at Redeemed Reader, and we've often remarked on the lack of accessible, comprehensive church-history resources for children.  William Boekestein, author of books about the classic church confessions, has now addressed that need in a unique way.  A Colorful Past begins with Paul the Apostle—converted by Christ himself and sent into the world as an ambassador of the gospel.  Through every century, even if the outlook seemed dark, God built up his church, provided intellectual and spiritual leadership, expanded its reach, and reformed it when necessary.  Every century is represented here, with special emphasis given to the reformers and pastors of the Reformed tradition (such as Jonathan Edwards and George Whitefield of the 18th century and William Carey and Charles Spurgeon of the 19th).
Each removable page includes an icon identifying the century, a brief paragraph about the individual with his or her life span, and a picture to color.  The pictures are simple line drawings appropriate to the skills of kindergarten and up.  It adds up to a reasonably-priced addition to the family church-history library.
Overall rating: 4.25 (out of 5)
Worldview/moral value: 5
Artistic value: 3.5
Reading Ahead for You
Reviews and Resources Weekly in Your Inbox