Two popular authors team up to write this quirky story about a lovable creature named—of course—Bob.
Bob by Wendy Maas and Rebecca Stead.  Feiwel & Friends, 2018, 201 pages.
Reading Level: Middle grades, ages 8-10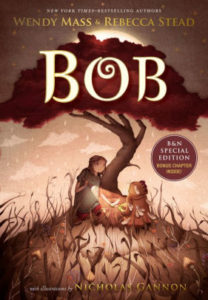 Recommended for: ages 8-12 independent readers; ages 6-12 as a family read-aloud
Olivia (Livy) doesn't remember much about her Gran's house, but hey—she was only five when she was there last.  Gran lives in Australia, which discourages frequent visits, but now that Livy has a new baby sister, it's time.  Mom is going to take a few days to visit friends while Livy gets re-acquainted with her grandmother . . . but the girl is haunted by a memory of someone else she needs to meet again.  And when she goes upstairs and opens the closet door, there he is: Bob, who has been waiting for her for five years.  Who is he?  Bob.  What is he?  That's harder to figure out.  Livy once called him a zombie, but he doesn't have any body parts falling off—meaning he's not dead.  He's not a chicken either, in spite of the chicken suit Livy made for him on her last visit.  But neither can remember where he came from.  Once they figure that out, a lot of other mysteries will fall in place.  Thus begins Livy's vacation project.
This odd little tale, told in alternating voices, has all the marks of a classic children's book: engaging, gentle, winsome; both homey and mysterious, subtle and sharp.  Hard to tell what it's about, exactly, except perhaps beginning to say farewell to childish things while retaining a sense of childlikeness.  Growing up, but not too soon.  It's a comforting story with enough laughs to make a great family read-aloud.
Cautions: None
Overall rating: 4.5 (out of 5)
Worldview/moral value: 4
Artistic value: 5
More than 75 books for children and teens, all about islands, oceans, and more. Bonus: get a free hand-drawn reading tracker!
Reading Ahead for You
Reviews and Resources Weekly in Your Inbox