Nine-year-old Louie volunteers to save Winslow, a newborn mini-donkey, in this gentle story about loss and change.
Saving Winslow by Sharon Creech.  HarperCollins, 2018, 165 pages
Reading Level: Middle Grades, ages 8-10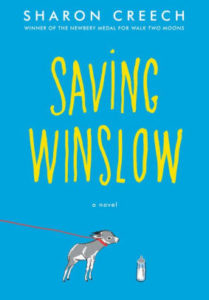 Recommended for: ages 6-10
In the laundry basket on the kitchen floor was a lump.
"Another dead thing? Louie asked.
"Not yet," his father said.
Louie's record with small living creatures isn't great.  With four legs, they run away.  Two legs, they last three months before hitting the bottom of the cage.  No legs: bottom up in the goldfish bowl.  It's a mystery why his father brought home the orphaned newborn mini donkey from Uncle Pete's farm.  The poor thing doesn't have much of a chance—even less of a chance, perhaps, with Louie.  But the little creature with pleading eyes grabs his heart, and Louie makes it his mission to help Winslow (the name just popped into his head) pull through.
This brief, understated story will appeal to animal lovers everywhere, but it's also a very human story about loss and change.  Louie's much older, much loved big brother Gus is away in the army and his absence still hurts.  His new friend Nora seems cynical beyond her years, hinting at an earlier loss she can't process.  Life is like that, and somehow we survive and grow and find things to rejoice in, like soft furry animals—who may just make it, with a little help.
For a similar tale from another culture, see our review of Mikis and the Donkey.
Cautions: None
Overall Rating: 4 (out of 5)
Worldview/moral value: 3.75
Artistic value: 4.25
More than 75 books for children and teens, all about islands, oceans, and more. Bonus: get a free hand-drawn reading tracker!
Reading Ahead for You
Reviews and Resources Weekly in Your Inbox