Readers, we've been hinting at our upcoming Redeemed Reader Companion on social media, our newsletter, and, finally, an official post here on the website….
Wait. You're not following us on social media or getting our newsletter? You should fix that!
We update Instagram and Facebook when posts are published as well as the occasional platform-only tidbit. For instance, sometimes a big sale on audiobooks or another resource catches our eye and we share that with readers via Facebook. Instagram is a fun place for extras like our #RR_weekendpoetry campaign: each weekend, you can enjoy a poem with your children along with a book cover image for you to file away for your next library visit.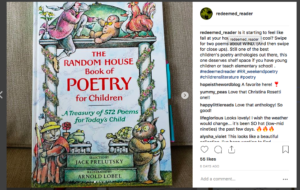 You can sign up for our (mostly) weekly newsletter in the side margin of the website. It's a great way to see what we've been up to at a glance without checking in every day. We also share fun trivia, announcements, and articles from around the web that relate to reading and kids.
Lively Lists: Part of our New Redeemed Reader Companion
Last week, Janie hinted at the wealth soon to be yours in the Redeemed Reader Companion–the best of our first 5 years. One of those "bests" is the sheer amount of booklists we've compiled.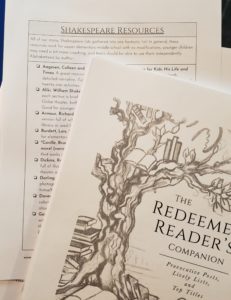 Did you know we have more than four separate Shakespeare lists on the website, some from the very earliest days of Redeemed Reader? Like this oldie, but goodie: Growing Up Shakespearean. We took all of our Shakespeare lists and compiled them into ONE, alphabetized, annotated list of 24 resources for you in the new Companion!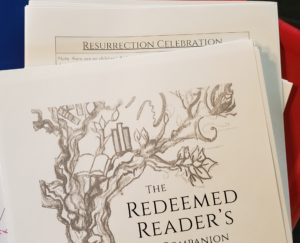 What about Easter? As Christians, we're picky about our Easter books, preferring to focus on the Resurrection rather than the Easter bunny. We combined all of our Easter-related lists into one, annotated list, complete with age recommendations, strengths and weaknesses, and notes on which ones include pictures of Jesus.  Our new-and-improved "Resurrection Celebration" list has 17 titles on it that include books for kids and teens of all ages.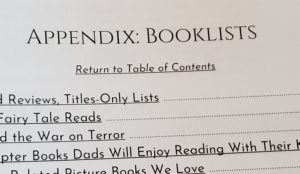 We've got you covered with "Graduation Gift Ideas" and "Cinderella Read-Alikes," our favorite ABC books and retro picture books, books for teens, books for dads to read to kids, books about families, books for early readers…..
In addition to reformatting and curating our existing lists from the first five years, we made a list of all of our starred reviews from those years: all in one place.
Print a list and take it with you to the library. Use the lists as "home-library-builders." Use some of the lists as "school-library-builders" or, even, "public-library-builders." Perhaps you need gift ideas for grandchildren. We know our readers come from a wide variety of backgrounds–there's something for everyone in the Redeemed Reader Companion!
Stuck at home? Enjoy our FREE Christian read-along adventure for all ages with lots of book ideas, discussion questions, and more!
Reading Ahead for You
Reviews and Resources Weekly in Your Inbox