A humorous and action-packed take on the updated-legend genre (a la Percy Jackson) also offers interesting characters and conflict dynamics.  Ages 12-15.
The Legend of Greg (An Epic Series of Failures, #1) by Chris Rylander.  Putnam, 2018, 338 pages.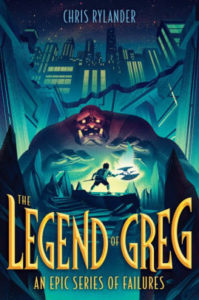 Reading Level: 10-12
Recommended for: 12-15
Greg always knew he was weird—in the normal, overweight, socially-awkward way that stands out even more at the pricey prep school he attends on scholarship.  But he's actually a whole other kind of weird, as he begins to discover when a polar bear almost rips his face off during a field trip to the zoo.  Shortly after, his father is abducted from his organic health-food store by trolls and Greg is spirited away to a vast network of underground passageways.  Turns out that Chicago is Dwarf Central, headquarters of the remnant of an ancient species that once ruled the earth.  Further, Greg himself is a dwarf.  And further still, his unassuming dad has succeeded in his quest to recover the special magic that dwarves once possessed.  It's just in time to give dwarves an advantage in the massive conflict that will pit dwarves and elves against each other and send humans scrambling for the exits.
Like Rick Riodan's Percy Jackson series, An Epic Series of Failures gleefully raids the storehouse of legend to frame a contemporary adventure tale.  The author draws from a Tolkienesque world of Anglo-Saxon/Norse extraction, and much of it is good natured and very funny.  But the reader will also find some interesting character dynamics taking shape, as well as a timely warning about investing too heavily in an "us vs. them" worldview.
"Elves and Dwarves are just as flawed as Humans, individually.  Some are bad.  And we all make mistakes.  Pointing out who is who is kind of ignorant and racist.  I mean, Miley Cyrus is a dwarf and Justin Bieber is an elf.  What does that really tell us about anything?"
Point taken!
Cautions: None
Overall rating: 4 (out of 5)
Worldview/moral value: 3.5
Artistic value: 4.5
Reading Ahead for You
Reviews and Resources Weekly in Your Inbox