Pensive and quiet, The Language of Spells casts its own spell for thoughtful readers—who like dragons.  Ages 10-15
The Language of Spells by Garret Weyr, with illustrations by Katie Harnett.  Chronicle, 2018, 299 pages.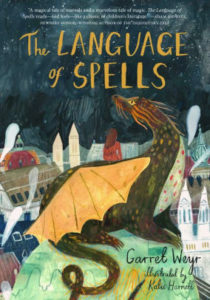 Reading Level: Middle Grades, ages 10-12
Recommended for: ages 10-15
"Back when the world was long ago and far away, deep in the Black Forest, a new dragon was born."  His parents named him Benevolentia Gaudium, or Grisha for short.  Because they had waited so long for him, and because he was (as it turned out) one of the last of dragon-kind, his parents expected him to be a little less  . . . well, ordinary.  Rather than a mighty warrior or powerful fire-breather, Grisha grew into a gentle, amiable soul. Also a naïve soul, or else he might have been a little more wary of the innocent-looking little boy he encountered in the Forest.  He didn't realize the boy was actually a world-famous sorcerer until he had been turned into a teapot.  Literally on the shelf for the next several decades, Grisha misses out on the Industrial Revolution and two World Wars.  When the spell is finally broken, he is lured to Vienna with with others of his kind, where they serve as museum pieces during the day.  In the early-morning hours they get together at the Sacher Hotel Bar to reminisce, but there are gaps in their history no one can remember.
In Vienna Grisha meets Maggie, a motherless girl living at the Hotel with her poet father.  Dragon and girl become fast friends, and soon they are allies in solving a mystery: what happened to the roughly 80% of the dragon population who didn't make it to Vienna?  Uncovering that secret will be the key to restoring magic to Europe.  Because, of course, dragons are nothing if not magical creatures.
The gentle story and evocative language have an old-world, melancholy atmosphere very different from the slam-bang drama of many dragon novels.  The tragedy of 20th-century Europe could account for that, and nostalgia for pre-industrial "Magic" could serve a stand-in for religious faith, intentionally or not.  In a world that moves too fast for many of us to think, The Language of Spells stresses the value of paying attention.  For, "magic is still there, tucked into shadows and corners.  It's visible, but only if you look."
Cautions: Language (one or two misuses of God's name)
Overall rating: 4.5 (out of 5)
Worldview/moral value: 4
Artistic value: 5
Please follow and like us: