Three "orphans" find their place in their community through music, forgiveness, and doing the right thing. Ages 10-15
The Orphan Band of Springdale by Anne Nesbet.  Candlewick, 2018, 435 pages.
Reading Level: Middle Grade, ages 10-12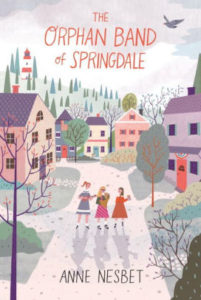 Recommended for: ages 10-14
Augusta Newbronner was not especially surprised when her father had to disappear on the train from New York City to Springdale, Maine.  After all, he's a union organizer and suspected communist wanted by the law.  He had intended to go on to Canada after leaving Augusta with her grandmother–he just had to bail out early and somewhat dramatically.  But that means she's on her own, with her beloved French horn and a letter from her mother (who can't leave her job in the city).  Gusta's grandmother has run an orphanage for the last fourteen years, so one more 11-year-old won't be much of a material burden, but this quiet, nearsighted girl comes with convictions from her father that the world is primarily a struggle.  What matters is doing what's right in "the clear light of trouble"–and she'll be stepping into trouble soon enough.
The author writes with a deft, sometimes breathless style that captures the rush and confusion of these transitional years.  Gusta faces real trouble indeed, but it's the kind of trouble a girl of her character can handle once she finds her bearings.  Struggle is not just the way of the world; it's the way of growth, and not without its delights: music, friendship, small pleasures of creation.  The renaissance of vision Gusta receives along with her new glasses is beautifully portrayed; a metaphor for the "clear light of trouble" where we discover what we're made of.  What her story lacks in pulse-pounding excitement it more than makes up in heart.
Cautions:  An illegitimate birth forms an important plot point of the story, but it's handled in a moral way.
Overall rating: 4.25 (out of 5)
Worldview/moral value: 3.75
Artistic value: 4.5
Please follow and like us: