A lightning strike turns a 13-year-old girl into a math genius, but she has a lot to learn about human relationships and living in the real world.  Ages 12-15
The Miscalculations of Lightning Girl by Stacy McAnulty.  Random House, 2018, 287 pages.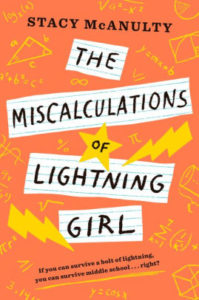 Reading Level:, Middle Grades, ages 10-12
Recommended for: ages 12-15
Nana + Uncle Paul + Math = Happiness
That's Lucy Callahan's calculation, ever since the freak lightning strike that made her freakishly adapt with numbers.  (And, to her mind, a freak.)  Homeschooled since the accident, she finds all the family she needs with her grandmother and her Uncle Paul (we never learn what happened to her parents).  All her friends are on an online math forum, where they know her as LightningGirl, a genderless, ageless abstraction.  Big changes come when Nana enrolls Lucy in seventh grade at the local middle school.  For a slightly OCD, misanthropic germophobe,  the only way this can be endured is to hunker down and try not to be noticed.  Everybody notices she's weird, but two of her classmates are okay with that–Windy, a social crusader who's interested in everybody, and Levi, a fellow loner.  Thrown together with these two for a community service project, Lucy finds herself gradually drawn into the world of actual relationships.  The problem with that is, forming attachments means risking hurt.
I had a few problems with this story; Lucy's voice seemed to belong more to the author than a 13-year-old, and her transition from social maladept to (more-or-less) normal 7th-grader seemed a little too fast.  Nana has a rich prayer life but it's unclear who she's praying to; several misuses of God's name  appear in the dialogue.  More troubling is the absence of fathers. Uncle Paul is something of a father-figure to Lucy, but as an active-duty Marine he doesn't show up much.  Windy's father doesn't seem to be around, and Levi has two mothers (more about that later).  On the positive side, though, Lucy is a fully-realized character with relatable flaws.  Even readers allergic to math can understand her social "miscalculation."  When things get messy, as they inevitably do in human relationships, she tries to reduce it all to an equation with no room for forgiveness.  But meanness + meanness = 2(m+m) = misery.  The character trajectory can make the story worthwhile, but the cautions are worth talking about.  Like it or not, we will see more single-sex parents in middle-grade fiction, always presented in a positive light.  Stories like this may be a good springboard for talking about it with your own readers.  (See discussion questions below)
Cautions: Language (several instances of "omg" profanity), Worldview (secondary character has same-sex parents)
Overall Rating: 3.5 (out of 5)
Worldview/moral value: 3
Artistic value: 4
Discussion questions:
What are the major factors that bring about a change in Lucy?  If you were in her shoes, do you think those factors would change you?
What do you think about the way Lucy reacts to Windy's "betrayal"?  How does she make it right?
What do you think about the way Levi's two moms are portrayed?  What would you say to Levi if he invited you over to his house for an afternoon?  (This is a tough one–be sure you talk it through in the light of both love and holiness.)
Please follow and like us: