Little Charlie wants to do the right thing even as he agrees to go fetch runaway slaves up north in this gritty middle grades historical fiction novel.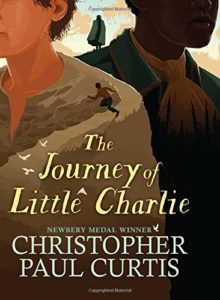 The Journey of Little Charlie by Christopher Paul Curtis. Scholastic, 2018. 256 pages.
Reading Level: Middle grades, ages 10-12
Recommended For: Middle grades, ages 10-12 and up
Little Charlie Bobo is a giant of a boy, looking older than his 12 years; he takes after his father ("Big Charlie"). It's the 1850s in Possum Moan, SC, and the Bobos are poor white sharecroppers. After Big Charlie dies, Little Charlie struggles to help his mother work their farm and make their payments. When Cap'n Buck starts harassing them to return the money he claims Big Charlie took, Little Charlie agrees to fulfill the job his dad left unfinished: going with the man to claim some stolen property up north. Cap'n Buck is about as despicable as they come, and Little Charlie begins to form a new plan as he travels north with his miserable boss. He realizes that the stolen property is runaway slaves, and Little Charlie wants no part of that mess.
Christopher Paul Curtis has written a number of highly acclaimed novels about slavery and Civil Rights issues. He takes on the voice of a poor, Southern white kid in this novel and manages to pull off the regional dialect remarkably well. Still, the dialect may turn some hesitant readers off. Reading it aloud (even to yourself) may help readers get a feel for the rhythm and irregular spelling. Authentic redneck dialect from the 1850s will include its share of earthiness, and that may be an additional red flag for some readers ("pissin," "Gawd," and the like). Cap'n Buck's own habits are about as reprehensible as they come, and his descriptions of the slaves and what will happen to them when they are returned to their former owner will make flesh crawl. This novel is not for the faint of heart, for sensitive young readers.
Still, Little Charlie is God-fearing in his way and he bravely does the right thing, even at great risk to himself. He's not a perfect character, and that makes him more realistic. We are all of us flawed and messed up, even when we are trying to do the right thing. This novel provides an interesting look at slavery in the 1850s through the eyes of an ignorant white kid who's trying to figure it all out himself. It also shows that the North was just as racist as the South even though there were freedmen living in the North in the 1850s.
Cautions: Language (mostly limited to crude speech, but an occasional "Gawd") and violence (descriptions of the treatment of slaves)
Overall Rating: 4
Artistic Rating: 4
Worldview Rating: 4
For other Christopher Paul Curtis novels, check out our review of The Watsons Go to Birmingham – 1963. For another story set in the Carolinas during a similar time period, check out Stella By Starlight.
Please follow and like us: