How Sweet the Sound tells the story of "Amazing Grace" in rhyming couplets and dramatic illustrations.  Ages 6-10
*How Sweet the Sound: the Story of Amazing Grace by Carole Boston Weatherford, illustrated by Frank Morrison.  Atheneum, 2018, 34 pages.
Reading Level: Picture book, ages 4-8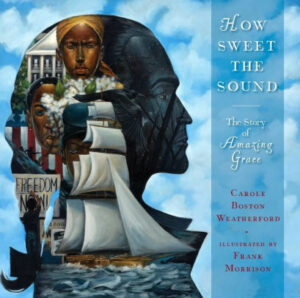 Recommended for: ages 6-10
Slaveship Greyhound, ocean-faring;/Young John, homeward, brawling, swearing . . .
If you know anything about John Newton, you'll recognize the pivotal point of his story in the very first pages of this book.  The dramatic illustrations capture the sailor's terror on the high seas as a fierce storm threatens to capsize the ship with its human cargo and surly crew.  At the helm John recalls his past: a godly mother who raised him to pray, a hard-handed father who took him to sea; a rough life that turned him into a brawler and swearer.  We know how God saved him to become a minister of the Gospel and a strong voice for the abolition of slavery, but this book provides a graphic, memorable way to introduce the story to children.
It's not just about John Newton, though: it's about the song that became one of the most beloved hymns in history, sung by slaves and (ex)slavers, Cherokees on their trail of tears, union soldiers and war protestors.  The closing pages include the most familiar verses, noting that the last verse ("When we've been there ten thousand years . . .") was written by Harriet Beecher Stowe (I didn't know that!)  The rhyming text doesn't work equally well throughout, but its striking economy makes for a compelling narrative, accompanied by striking illustrations.  Not many God-honoring picture books are published by secular publishers these days, so it's a delight to see this one.
Also by Carole Boston Weatherford: Freedom in Congo Square, You Can Fly, and The Beatitudes
Cautions: None
Overall Rating: 4.75 (out of 5)
Worldview/moral value: 5
Artistic value: 4.5
Reading Ahead for You
Reviews and Resources Weekly in Your Inbox