Myth and mystery haunt this road-trip story about an orphan boy, a lovable dog, and a bitter old woman.  Ages 12-15
The Road to Ever After by Moira Young.  Feiwel and Friends, 2017, 211 pages.
Reading Level: Middle grades, ages 10-12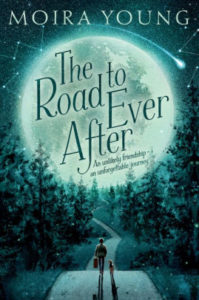 Recommended for: ages 12-15
Davy David, orphaned as long as he can remember, lives hand-to-hand in the dreary town of Browndale, running errands and doing odd jobs.  He also has to keep an eye out for the gangmaster, who regularly gathers up vagrants and hauls them off to workhouses.  Davy has another secret, too: he's the town's resident angel-maker.  Using sticks and brooms, he sweeps images gleaned from the library copy of Renaissance Angels: not the simpering sweet kind, but the mighty and stern.  Until George turned up, Davy's most reliable friend was the town librarian.  But a week before Christmas, there was George: shaggy and panting and tail-wagging on the library steps.  A boy and a dog can't shrink into the shadows; accused of theft by the vindictive town parson, Davy and George seek refuge in the abandoned town museum.
It's not actually abandoned.  The owner still lives there—an aged, cranky, and bitter woman.  Miss Elizabeth Flint seizes on this 13-year-old stranger as a vital accomplice to a desperate plan: convinced that Christmas Day will be her last, she cajoles Davy into driving her to her childhood home to die.
Their adventure takes on a mythical character as they encounter one obstacle after another, wreck Miss Flint's ancient auto and steal another, run afoul of the police, and make friends with gypsies.  Davy notices one strange development very soon after hitting the road: as they travel, Miss Flint appears to be growing younger.  And the relentless wind that started up in Browndale, seems to be following them.  What it all means is up to young readers to discover, but this is a journey of faith.  Miss Flint starts out with none: "The human race seems unable to accept emptiness: we've always invented places that done exist." But as she grows younger and more vulnerable, a need for something more emerges.  Angels notwithstanding, this is not necessarily Christian faith, but what she needs has a specifically Christian answer.
The story is beautifully told and if it offers no definitive answers, well, that's not what fiction is for anyway.
Cautions: Worldview (atheism turning to . . . something else)
Overall Rating: 4 (out of 5)
Worldview/moral value: 3.5
Artistic value: 4.5
Please follow and like us: