Bear and Mouse add to their memorable experiences by celebrating Christmas together.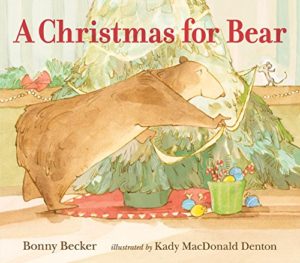 Christmas for Bear by Bonny Becker and illustrated by Kady MacDonald Denton. Candlewick, 2017. 48 pages.
Reading Level: Picture Book, ages 4-8
Recommended For: all ages
Curmudgeonly Bear has plans for his first Christmas party: sitting by the tree, eating imported pickles and reading a long and difficult poem. That should be quite sufficient, but true to character, and much to Bear's annoyance, Mouse keeps interrupting his plans by looking for a hidden present that Bear insists is wasted effort.
Although the only Christmas story referenced is "A Visit from Saint Nicholas," the celebration of friendship is welcome. The reader has come to expect the habits and personalities of both characters, but this story shows growing warmth and affection between the unlikely pair. Relationships can be difficult at times, even (especially!) during the holidays, but when Love was born to conquer all, we can rejoice in redemptive friendship.
Cautions: none
Overall Rating: 4
Worldview Rating: 3.5
Artistic Rating: 4.5
For other Bear and Mouse books, see A Library Book for Bear and A Visitor for Bear. 
We are participants in the Amazon LLC affiliate program; qualifying purchases you make through affiliate links like the one below may earn us a commission.