Disappeared offers teens a complex look at making moral choices amid drug crime and kidnapping along the Mexican border.
*Disappeared by Francis X. Stork.  Scholastic, 326 pages, 2017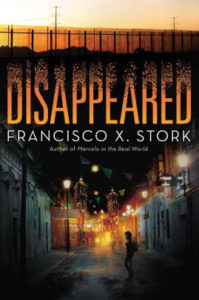 Reading Level: Teen, ages 15-18
Recommended for: ages 15-up
Juarez is safer than it used to be, since the drug wars have cooled down and tourists are coming back.  But Sara Zapata, 19, is haunted by an unsolved crime: what happened to her best friend Linda Fuentes?  Linda disappeared months ago, and to the authorities she seems to be just one of many pretty young women kidnapped during and after the cartel chaos.  As a reporter for El Sol, Sara has been writing profiles of these missing girls for months.  Now she's received a threat: stop writing about Linda.  Does that means she is still alive?  Sara isn't sure, until a blurred photo shows up on her phone with a cryptic subject line only Linda could have written.
Meanwhile, things are looking up for Sara's brother Emiliano, age 17.  On a downward spiral since their father filed for divorce and moved to the States, Emiliano was befriended by Brother Patricio.  Patricio has drawn the young man into the Jiparis, a kind of Explorer Club.  Though he's not sure God exists, Emiliano has discovered the satisfaction of right living and helping others.  The attention of beautiful Perla Rubi Esmeralda appears to be his reward.  But other relationships are more complicated, and even Perla Rubi's love might come with strings attached.
This is a thriller, a mystery, and a survival story that's also intensely moral.  We who live comfortable, non-threatening lives may sometimes fool ourselves that it's easy to do the right thing.  Not for Sara and Emiliano.  Emiliano's path is especially difficult, contorted as it is by anger at his father and the plausible lies he tells himself.  The wrong thing can be made to look right, and the right thing can be weighted with danger or loss.  Without graphic violence or excessive language (see cautions below), Disappeared makes the reader feel the dilemmas these teens face.  But they don't have to face it alone: some "friends" prove unreliable, but others stay true, and their mother's Christian faith is a rock-solid support throughout.  The answers aren't easy and the moral dilemmas are knotty, but truth will break through.
Cautions: Language (several uses of mild profanity), character issues (justifying divorce)
Overall rating: 4.75 (out of 5)
Worldview/moral value: 4.5
Artistic value: 5
Note: Francisco X. Stork typically deals with difficult issues in a way that stresses transcendent values and works of faith.  See our review of Marcello in the Real World.
Please follow and like us: