Mr. Revere and I: History as told by a horse in this humorous middle grades historical fiction.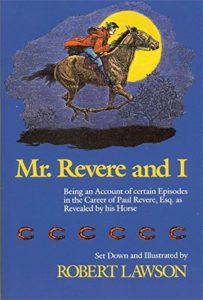 Mr. Revere and I: An account of a certain episode in the career of Paul Revere esq., as revealed by his horse… By Robert Lawson. Little, Brown and Company, 1953.
Reading Level: Middle grades, ages 8-10
Recommended For: All ages, especially as a read aloud
If you think you know all about Paul Revere, think again. This is the story of Paul Revere supposedly told by his horse, who was originally from the British army. The horse's name is Sherry, short for Scheherezade. Once she proudly carried the stammering Leftenant Sir Barnstable, who is nothing more than a nitwit in a red suit. History is woven with delight in this story of how Paul acquires Sherry and how they save the colonist's armaments in Concord. Readers from 8 to 80 will be captivated by the humorously told events leading up to Revere's famous ride.
Droll illustrations, portraying characters with ridiculous expressions, show exactly what they're thinking. Written by the same author as Ben and Me, a similar work about Benjamin Franklin.
Cautions: none
Overall Rating: 4
Worldview Rating: 3
Artistic Rating: 4.5
(with assistance from Megan's son, Henry)
Reading Ahead for You
Reviews and Resources Weekly in Your Inbox