Word Shaper: Someone who shapes, and changes, words.
We associate envy with the color green. Why? William Shakespeare.
In America, we write "color" instead of the British "colour." Why? Noah Webster.
We have myriad books printed just for children. Why? John Newbery.
Instead of "said," we can use a thesaurus to look up "chorused," "spoke," "alleged," … Why? Roget.
It's easy to assume that language is static, particularly if you're still on the younger side of high school. But words–and language–are constantly evolving and changing to fit the demands of culture. This is true for spelling changes, usage changes, and the actual addition of new words themselves (not to mention grammar rules like the omission now of the beloved Oxford comma; a rule I refuse to eliminate).
Word Shapers: A Picture Book Biography Booklist
Below is a list of picture book biographies looking at four men who have played a key role in the development and usage of our English language. They are as much fun for adults as they are for children! Titles linked to amazon (affiliate links; thanks for your support!).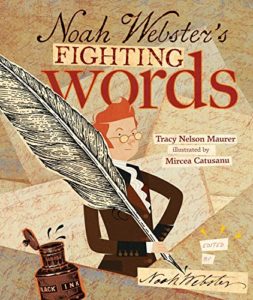 Noah Webster's Fighting Words by Tracy Nelson Maurer and illustrated by Mircea Catusaun. Millbrook Press, 2017. 40 pages. Noah Webster's claim to fame is easy to recognize: we still have dictionaries with his name on them! Determined to unify and simplify American English, Webster made the first official dictionary in America. His larger than life personality comes through clearly in this humorous, lively biography, as Webster himself "edits" the text. Back matter includes author's and illustrator's notes, a timeline, and several lists of resources for further exploration. Ages 6 to 10.
(Note: Noah Webster has received plenty of picture-book attention lately.  See our reviews of Noah Webster and his Words here and here.)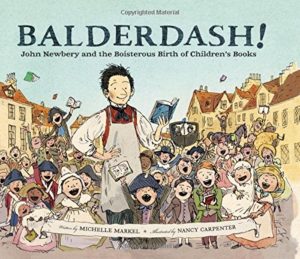 Balderdash!: John Newbery and the Boisterous Birth of Children's Books by Michelle Markel and illustrated by Nancy Carpenter. Chronicle Books, 2017. 44 pages. We take the field of "children's literature" for granted these days; it's a firmly established publishing powerhouse. Yet, it did have a beginning. None other than the man whose name is on the most prestigious American children's literature award was instrumental in creating and publishing the first books designed just for children. To be clear, there were already moralistic, didactic, and religious texts for children; John Newbery introduced the element of books-for-pleasure-and-enjoyment to the scandalous looks of the more dour citizens. Back matter includes short biography and selected bibliographies. Ages 4 to 10.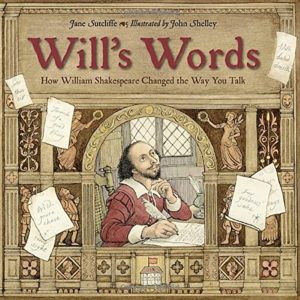 Will's Words: How William Shakespeare Changed the Way You Talk by Jane Sutcliffe and illustrated by John Shelley. Charlesbridge, 2016. 40 pages. Pay careful attention to the illustrations in this delightful book about the bard and his mighty influence on our English language. This book is a fun introduction to Shakespeare for the younger set, but even high schoolers (and teachers) will learn something new from it. Recommended as an introduction to the bard before studying any of his plays! See our earlier review for more details. Ages 6 and up.
(Note: If you're wondering how to teach Shakespeare to your kids, we have resources galore!  Check out our post on Introducing Shakespeare to Children, for a start.  Then type "Shakespeare" in the search box and scroll away.)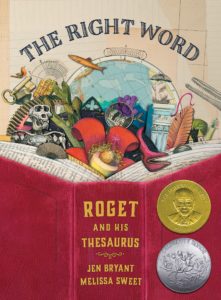 The Right Word: Roget and His Thesaurus by Jen Bryant and illustrated by Melissa Sweet. Eerdmans, 2014. 42 pages. Arguably the best of this list in terms of craftsmanship, this is a book not to be missed! Roget's love of language and lists comes through as vibrantly in the illustrations as it does in the text. Older children (even teens) will enjoy pouring over the many details included in the images. Melissa Sweet incorporated images from Roget's own lists and books into the illustrations, and Bryant's text is a solid biographical overview of Roget's life. Readers might also be interested in River of Words, also created by Bryant and Sweet, about William Carlos Williams. Ages 8 and up.
What other books about these word shapers do you like? What other word shapers do you think are important to know?
More than 75 books for children and teens, all about islands, oceans, and more. Bonus: get a free hand-drawn reading tracker!
Reading Ahead for You
Reviews and Resources Weekly in Your Inbox