God and the Transgender Debate: What Does the Bible Actually Say about Gender Identity? by Andrew T Walker.  The Good Book Company, 2017, 171 pages.
Reading Level: Teen, ages 15-18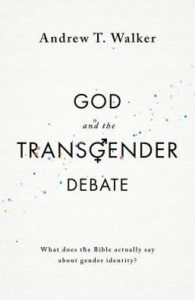 Recommended for: ages 16-up
The issue jumped upon us before we were ready for it: one day we're debating the viability of same sex couple marrying each other, and the next we're wondering if biological males should be free to go into women's bathrooms (and vice-versa).  Issues move faster than the church, but thoughtful Christian teachers and thinkers have been a little more proactive lately.  Two years ago, Engendered by Sam Andreades presented a biblical case for gender differences.  Andrew Walker's  G0d and the Transgender Debate addresses how God's people should respond–not so much to the issue itself as to the individuals who are burdened with gender dysphoria.
In the Foreward, Dr. Albert Mohler reminds us that "The sexual revolution is a failed experiment: one that will only result in personal tragedy and cultural chaos."  The church should not be confused about this.  Andrew Walker reinforces the biblical case for God's purpose in two distinct genders: "Humanity's  design is tied to humanity's mission."  That is (harking back to the Creation Mandate), to be fruitful and multiply and care for the Earth.  But there may well be confusion among Christians about how to regard those who reject or misunderstand the mission. The brief answer is, as Christ would–with understanding, compassion, and truth.
The questions are apt to increase as transgenderism becomes a larger topic in the media and probably in the classroom.  This book would be useful in the church library as an aid to shaping the mind of the body of Christ.
Please follow and like us: