Chapters 14-19
This section sees Roy Ray delivered to an entirely new setting, with new characters that, as we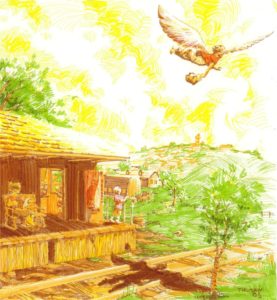 learn, are not entirely new.  We're still in the "mushy middle" of the story, where the action could bog down if an author isn't careful.  I hope that's not happening for you, but let me know if it does.
In each quarter, Roy Ray has overcome one great challenge.  The first was signing up for training with Mr. G, and continuing with it when the going got rough.  The second was carrying on after the loss of his mentor.  In Chapter 19 he falls into the hands of the enemy and faces his greatest challenge yet: an actual spiritual crisis.  Chapter 19 is what I call the "turning-point climax" of the story.
We're accustomed to thinking of the climax as the high point of the action: the big confrontation between hero and villain, or the last battle, or whatever fits.   But there's another way to think of a climax: as the point where all the major choices have been made.  Up to then, options are open: run or fight, sink or swim, left or right.  But after the turning point, only one option is open, and what remains is to see how that one plays out.  In the last chapters we'll see a final confrontation (or more than one), but Roy Ray's has made his choice, and further events, exciting and climax-y as they may be, are just how that choice works out.
A few questions:
Are you clear about who the villains are? and what they are?
Do you know what they want?
Do you have any ideas about what will happen next, and who will get out of the underground bunker?
This week, our giveaways are two great resources for teens: face time is especially helpful girls who need to center themselves in something other than likes and clicks.  This Changes Everything is a refresher course in Christian living for young adults heading into the wider world, whether it be college or career.  Teens have to own what they believe—just like Roy Ray!
Please follow and like us: