A fascinating dual biography captures the triumph and eventual tragedy of brothers who loved and fought fiercely.
Vincent and Theo: the Van Gogh Brothers by Deborah Heiligman.  Henry Holt, 2017, 402 pages plus appendix.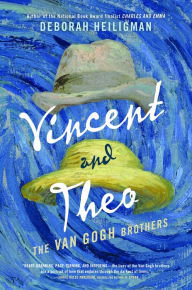 Reading Level: Young Adult, ages 12-15
Recommended for: ages 15-up
The older brother was mercurial, intense, gregarious, insanely gifted—and sometimes actually insane.  The younger brother was steady, intelligent, quiet, responsible, and forgotten.  Yet, as the epigram states, "The world would not have Vincent without Theo."  This dual biography makes that case overwhelmingly.  Born into a bourgeoisie Dutch family headed by a pastor father and an artistic mother, the Van Gogh boys bonded as teens and remained close throughout life, though volatile Vincent and slow-burn Theo also went through long periods of not speaking to each other.  Vincent, a classic bi-polar personality, experienced spectacular highs and dirt-scraping lows, even before devoting himself to art.  Theo found a place for himself early, and sometimes quite successfully, as an art dealer, and as such was ideally placed to help make Van Gogh a household name.  The first to recognize his brother's genius, he encouraged Vincent's experiments with color, brokered his paintings, supported him out of his own salary, and provided lodging and medical treatment when necessary.
Yet their stories are equally sad.  As a young man Vincent went through a period of intense religious zeal, but ended up rejecting his parents' faith.  Theo never adopted that faith.  Both frequented prostitutes and contracted STD's—that's what killed Theo, shortly after his brother's tragic (and possibly self-inflicted) death.  The ups and downs of their relationship makes this biography a bit too long, and often frustrating (Will Vincent ever get his act together? Will Theo ever find lasting happiness?).  Maybe we don't need the play-by-play of every breakup and frustrated romance, but as an example of the biographer's art, it's outstanding.  The author chooses to tell the story in present tense, an unusual choice that works brilliantly for the subject, adding a freshness and brightness that rivals the bright yellows of a Van Gogh sunflower.  The result is fascinating, and all the more saddening at the end.  Yet it's valuable to know of these lives, for sympathy and understanding
Cautions: Dark/Depressing; Character issues (both men visited brothels and had long-term live-in relationships with women)
Overall Rating: 4 (out of 5)
Artistic value: 5
Worldview/moral value: 3
Please follow and like us: