Shipwreck Island (Shipwreck Island #1) by S. A. Bodeen.  Feiwel & Friends, 2014, 184 pages
Reading Level: Middle Grades, ages 8-10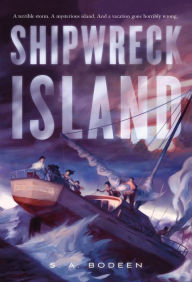 Recommended for: ages 10-14
Sarah is not happy these days.  Her widowed father, after two years alone, has just remarried and he insists that his new wife and her two sons are now one big happy whatever.  To cement their bond, the happy couple decides to make their honeymoon a family affair: a sailing cruise in the Fiji Islands.  Worst. Idea. Ever.  Nothing works out as planned, and their comic misfortunes become scary when their sailboat captain is swept overboard in a storm, the mast breaks, their radio doesn't work, and the boat runs aground on an island that looks like a tropical paradise but has some frightening surprises in store.
Shipwreck Island is the first of a four-part series aimed at reluctant readers: quick setup, fast action, no character development and enough thrills to keep the pages turning.  Those expecting realistic adventure on the order of Robinson Crusoe or The Swiss Family Robinson may be disappointed—as we soon learn, there's something "off" about the place—way off, and dangerous and scary too.  Jules Verne's The Island of Dr. Moreau comes to mind.  Kids who like fast-moving adventure shouldn't start this book unless they can quickly lay hands on vol. 2 (Lost), 3 (Trapped), and 4 (Found).  I only read the first one so I can't vouch for the tension level throughout, but if you're looking for a quick summer diversion, check it out.
Cautions: Language (occasional mild vulgarity, such as "crap," "suckfest")
Overall Rating: 3.5 (out of 5)
Artistic value: 3.75
Worldview/moral value: 3.25
Talk amongst yourselves...