In spite of language and sexuality issues, this satiric YA novel skewers Political Correctness and provides some welcome perspective on "Social Justice Warriors."
No Good Deed by Goldy Moldavsky.  Point (Scholastic), 2017, 345 pages
Reading Level: Young Adult, 12-15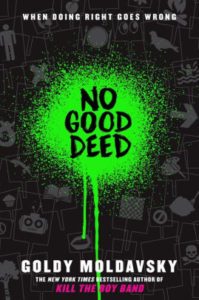 Recommended for: ages 16-up
It's not about a traditional camp experience for 16-year-old Gregor Maravilla.  It's not about the s'mores and midnight panty raids.  It's not even about the rumor that Ashley Woodstone, former child star and current hot teen property, will attend as a normal camper reclaiming some of her lost childhood.  Camp Save the World is about making a difference and possibly even winning an internship with software king and billionaire philanthropist Robert Drill.  Gregor was one of the select few chosen out of thousands of camp applicants, and he's thrilled at the opportunity to boost his special cause (Feeding the Children).  Of course he's also a complete nerd and stumblebum, falling at first sight for Poe (Feminism), easy prey for the ripped macho guy known as Men's Rights, outclassed at every turn by Win Cassidy (so cool he doesn't need a cause), and tripping into awkward conversations with fellow campers like QUILTBAG (Queer or Questioning, Undecided, Intersex, Lesbian, Transgender, Bisexual, Asexual and Gay).  But oddly enough, when Ashley Woodstone arrives with her bodyguard, Gregor is the one she seeks out, in spite of (or because of) his indifference to her.
No Good Deed takes firm pokes at youthful idealism, easy cynicism, and every PC cliché in the book (Poe's sexuality was none of my business. "I consider myself an ally").  The satirical edge wallows in caricature and veers toward silliness—I couldn't get into Ashley's "Eat Dirt" campaign—but there's a core of sweet sincerity in her relationship with Gregor.  Ashley herself is sweetly sincere, while everybody else has an ax to grind, a shoulder chip to polish, or an icon to impress.    If there's a message to this novel, it's that causes don't save the world.  People do (actually, Jesus does), by loving each other one at a time.
Social Justice Warriors (so ubiquitous as to be abbreviated to SJW's) have taken over certain college campuses and blogs where they shout down argument and label their opponents as Nazis and fascists.  Are such convictions sincere, or a form of identity, or deep-seated anxiety, or brainwashing?  Language is a significant caution in this novel: numerous uses of the s-word, a few of the f-word—but surprisingly no Third-Commandment profanity, not even an omg.  Sexual references occur frequently as well, though Gregor does not, as his brother predicted, "get laid." Another warning: we shouldn't be laughing so deliberately at SJW's that we forget their humanity and need for Christ.  Still, though it shouldn't be taken too seriously, effective satire offers a third way between fanaticism and cynicism.
Cautions: Language (see review), Sexuality
Overall rating: 3.5 (out of 5)
Artistic value: 4
Worldview/moral value: 3
Support our writers and help keep Redeemed Reader ad-free.