One week from today, we're starting a unique opportunity for young readers (ages 8-12) and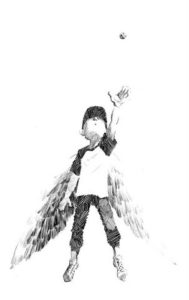 their parents, teachers, and/or older siblings.  A fuller explanation can be found at the announcement post, but in brief: I'm in the final stages of revising my next children's novel, a "realistic" fantasy (I know, that sounds like an oxymoron) for middle graders.  Since fantasy is not my forte, I'd like some feedback before I begin submitting the manuscript to publishers.  That's where you can help.
Starting today, you have an opportunity to sign up for an email list.  Next Friday, Sept. 1, we kick off with the Prologue and Chapter 1.  Those who participate will receive one chapter via email per day, Sundays and Labor Day excluded, throughout September.  The chapters will be in .pdf format and may be easily downloaded to a Kindle or Kindle app (I'll tell you how to do that).  Chapters may be read privately by any number of family members, or you might consider a read-aloud, as the novel is family-friendly with a Christian worldview (though not an explicitly Christian message).
As a bonus, many chapters will include notes at the end (which you're free to skip), suggestions about what to look for in the next chapter, and a few specific questions I'd like some answers for.
Every Friday, I'll post a recap of the action here at Redeemed Reader and invite readers to comment.  Here's your chance to influence a work in progress!  Readers of all ages may feel free to ask questions, suggest changes, and respond to other comments (compliments are always appreciated, too).
You may sign up at any time from now until September 15.  If, after a few chapters, you decide Bird Boy is not your cup of tea, just let me know and I'll take you off this list.  But—
LET'S MAKE THIS MORE INTERESTING
If you stick around for the ride, and contribute comments to the Friday posts, you'll be entered in a once-a-week giveaway opportunity!  On four Fridays in September each participant in the comments (kids included) will be entered in a random drawing to win the following outstanding titles:
September 11 – Wise Up: 10-Minute Family Devotions in Proverbs by Marty Machowski
September 18 – Dragon Seed by Marty Machowski
September 25 – Teen special: This Changes Everything by Jaquelle Crowe and Face Time by Kristen Hatton
October 2 – Tangled (Vol. 4 in the Quest for Truth quartet) by Brock Eastman
Previous winners will not be eligible to for subsequent weekly prizes.  But, if you hang in there for the duration, ALL participants will be entered to win a grand-prize giveaway:
The Quest for Truth Quartet by Brock Eastman, all four volumes
So spread the word and sign up through my Redeemed Reader email: jbc@redeemedreader.com.  A simple "I'm in!" will do, but if you can share a bit about your family and/or class (mainly ages and number of kids) I'd appreciate knowing the information.  And will not be sending you further mailings!
That's it.  I'll put you on a list to receive the daily chapter, and you'll eagerly await your opportunity to add your feedback to the Friday posts.  Thanks—and I'll see you in the comments!
Please follow and like us: