Eight-year-old Cody's enthusiasm for life is contagious in this sunny chapter-book series.
Cody and the Fountain of Happiness (Cody series #1) by Tricia Springstubb, illustrated by Eliza Wheeler.  Candlewick, 2015, 151 pages.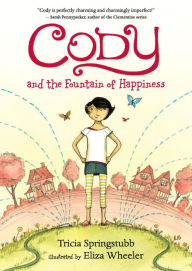 Reading Level: Chapter Books, ages 6-8
Recommended for: ages 6-10
It's the first day of summer vacation and life is beautiful: for irrepressible, exuberant Cody (age 8), the only cloud on the horizon is summer camp.  But in the meantime, she can cruise the neighborhood, study the sociable ways of the ants, and poke her big brother Wyatt.  Making the acquaintance of fat cat MewMew and MewMew's houseguest Spencer is icing on the cake.  Especially since Spencer is a sad, anxious kid who's staying with Grandma Grace because his folks are on a very extended vacation.  Like they don't want him around, or something.  Soon enough trouble appears, like Mom's tensions at work and Wyatt's unrequited love for Payton Underwood and MewMew's tendency to disappear. Cody has solutions for all these problems—good ones, too, except they have this troublesome way of backfiring.
The exuberant tone of the Cody books is due to their title character: a girl who approaches life with enthusiasm and finds interest everywhere, even in tiny busy ants.  She admires them for their quick, casual empathy—the way they touch feelers to communicate with each other.  Her efforts to reach out are like feelers, but humans are a lot more complicated than ants.  That's one of the great challenges of life, and also one of its greatest rewards—and, as Cody shows us, reaching out can also be fun, even if it doesn't work out the way you thought  A close-knit family and well-rounded characters make this chapter-book series a welcome find.
Also by Tricia Springstubb: Every Single Second
Cautions: None
Overall Rating: 5 (out of 5)
Artistic value: 5
Worldview/moral value: 5
Talk amongst yourselves...