It's no wonder classic children's books feature characters with racist attitudes—the authors of those books also had some racist attitudes.  We looked at the problem in last week's post, ending with the question, what do we do?  I'm hoping to make some positive suggestions, but first, a clarification:
Racism is said to be "America's original sin," especially in regard to the African slave trade and all the miseries it produced.  In a way this is true, but in another way it's untrue, and misleading.  An original sin, properly understood, is the primary fault from which every other fault stems.  Writers such as Ta-Nehisi Coates and Michael Eric Dyson go so far as to suggest that America was founded on racism.  With all respect, sirs, it was not.  America was not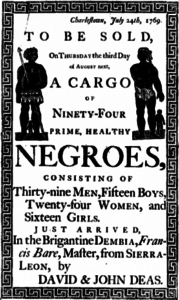 established as a white kingdom across the sea: the world already had one of those, called Europe.  America was a new world to make a new start, unhindered by the vestiges of serfdom, a permanent underclass, strict inheritance laws, and burdensome taxation.  The expanded opportunity to succeed meant expanded opportunities to exploit, and exploitation in itself has nothing to do with racism (though racism often hitches a ride).  It has more to do with self-centeredness and greed, to which no one is exempt.  America's original sin is actually the Original Sin, and racism is an effect, not a cause.
Our spotted history is a little, or a lot, more complicated than contemporary social consciences make it seem.  My father, for instance, was a racist.  He was born in rural Alabama in 1909, and spent part of his childhood in Mississippi.  He was handsome, personable, gentlemanly, generous, responsible, patriotic, and well-liked, with a beautiful old-south accent that's now gone with the wind.  And he was a racist.  I never knew him to speak or act harshly toward "colored people," but he clearly believed them to have a "place" that they were never meant to rise above.  Was he a good man?  Yes, with serious faults, like me and you.  Could he overcome his racism?  Maybe–my mother did, but she was significantly younger and more open, particularly to the Holy Spirit.
One aspect of multiculturalism, as it's currently understood, is to view it through the lens of oppression, regarding all forms of racism the same (and all Whites as racists).  But this robs children of the opportunity to make fine distinctions and look past labels.  Racism has taken distinct forms in the United States, with varying results.  The most problematic is toward African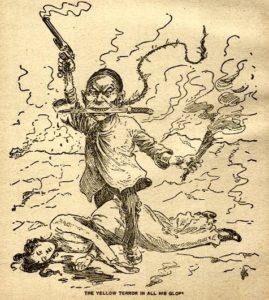 Americans, because of their involuntary "immigration" and 200 years of forced servitude, followed by another hundred years of institutional discrimination.  The second-most fraught, historically at least, is toward Indians or Native Americans, because of their prior claim to the territory followed by years of bloody warfare, with atrocities on both sides.*  Hispanics were also indigenous people to begin with, but Europeanized by the time white settlers reached Texas and California.  Most of them became second-class citizens at that point, but were able to retain their heritage.  Asians came voluntarily, and though subject to suspicion and mistreatment when they arrived, they've climbed the ladder of success ever since.  Jews—not a race but an ethnic/religious group—have often been socially discriminated against, but in general found America to be far more welcoming than Europe.
American children, of all races and ethnic groups, need to know our country's faults but also our country's virtues.  Steering a path through classic literature can make this difficult, especially for children of African, Hispanic, Indian, or Asian heritage.  Are there some books they shouldn't read at all?  If the purpose of the book is to denigrate a class or race of human beings made in God's image, yes.  But racist stereotypes and comments encountered in historical literature can still be hurtful, even if they aren't intended to be.  For a G. A. Henty adventure tale or classic romance like Gone With the Wind (book or movie), it's worthwhile to ask some critical questions.  Such as
When was the book written?
What do you know about the author?
What is the author's purpose in writing the book? (to reminisce, teach, entertain, proselytize?)
How do the characters express racist attitudes?  Where do you think these attitudes come from? Do these attitudes seem hostile or violent, or merely careless?
Do you believe the characters would think differently if they lived today?  Would you think differently if you lived back then?
What do you admire about these characters?
If you take the time to discuss some classic novels along these lines, your kids will take the hint and begin querying literature for themselves.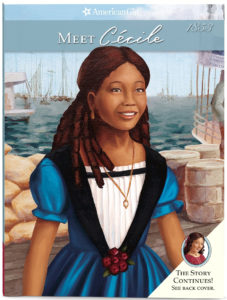 Parents, especially white parents, can be intentional about something else, too.  Blogger Sarah Hannah Gomez made some interesting points in a Horn Book piece called "Decolonizing Nostalgia: When Historical Fiction Betrays Children of Color."  Growing up as a biracial (African/White) adoptee into a bicultural (Mexican American/Ashkenazi Jewish) family, she couldn't find representations of herself in the fiction she read.  Given her unique heritage, I'm not surprised.  But when she asked at the library for books about black children, she got slavery or civil-rights narratives.  After a while, "I couldn't take any more of it.  Instead, I wanted to know what a black Laura Ingalls would have been doing in the 1870s."  Her best options turned out to be the Dear America series and one "American Girl": Cecile Rey, a free black girl living in antebellum New Orleans.  But Cecile's shelf life was short; she was discontinued after only three years.
"For nonwhites," writes Gomez, "the absence of everyday stories and the lack of connection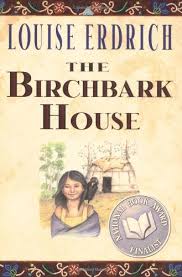 between larger moments of history mean that our collective memory is made up of not just fewer experiences overall but specifically traumatic ones . . ." (emphasis added).  That is, when children—both white and nonwhite—are fed a steady diet of "traumatic" history they receive a warped view of their own people, inducing negativity, resentment, and guilt.  The best remedy is stories about the everyday experiences of nonwhite children within their own cultures.  After reading about Ojibwa tribal life in Louise Erdrich's Birchbark House series, for example, readers are likely to disagree with Ma Ingalls' attitude toward "savage" Indians.
"Multiculturalism" has been used to beat Whites over the head for bigotry and oppression, and to imply that almost any other culture is better, or at least as good.  At Redeemed Reader, we make an effort to promote positive multiculturalism: not to sanitize or denigrate one culture against another, but to appreciate the magnificent variety of the many nations God made from one man (Acts 17:26).  We'll try to do better in the future, but for now here's a partial list of recommended books.  For more information and possible cautions, look up our reviews by typing the title or author in the search box.
Picture books:
Step Right Up: How Doc and Jim Key Taught the World about Kindness
Last Stop on Market Street
Whoosh!  Lonnie Johnson's Super-Soaking Stream of Inventions
Jazz Day
Freedom on Congo Square
Early Readers:
Year of . .  series by Andra Cheng
Magnificent Myra Tibbs series by Crystal Allen
Lulu series by Hilary McKay
Ling and Ting series by Grace Lin
Middle Grade:
The Birchbark House series by Louise Erdrich (we haven't reviewed these yet, but will do)
The Sweetest Sound
The Jumbies
Gaither Girls trilogy by Rita-Williams Garcia
Double Dutch series by Mabel Elizabeth Singletary
My Friend the Enemy
Nine, Ten: a September Eleven Story
Save Me a Seat
Where the Mountain Meets the Moon and related titles by Grace Lin
Ghost by Jason Reynolds
Crossover by Kwame Alexander
Hereville graphic novel series by Barry Deutsch
Tiger Boy
Young Adult:
It Ain't So Awful, Falafel
Under a Painted Sky
When I was the Greatest
Time Traveling with a Hamster
Hidden Figures
See our discussion of contemporary racial tension in "Talking about Books that Talk about Race"
*P.S. For grownups, I highly recommend Empire of the Summer Moon, a balanced, insightful study of the culture clash between Whites and Native Americans.  The lens for this broad subject is the saga of Cynthia Ann Parker, a white girl captured by Comanches in 1840s Texas, and her son Quannah Parker, who eventually adopted the best of both worlds.
Support our writers and help keep Redeemed Reader ad-free.