A shy ten-year-old comes to recognize that both talents and personality are gifts of God and not to be disparaged.
The Sweetest Sound, by Sherri Winston.  Little, Brown, 2017, 259 pages
Reading Level: middle grades, ages 8-10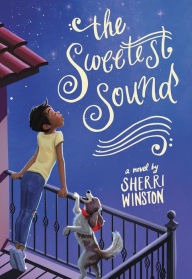 Recommended for: ages 8-12
Cadence, age 10, hates her nickname—Mouse—but has to admit it suits her.  She's painfully shy and introspective, and it's not because her mother walked out on the family a few years earlier to pursue her dreams.  Cadence is just quiet by nature, but she has bold dreams of her own, such as writing a best-selling novel and singing before an audience of thousands—maybe even a duet with her musical mom.  In the meantime, she hates that people feel sorry for her and are always making a fuss, especially at church.  Music is a big deal at her church but nobody (yet) realizes she can sing.  She dreads having to try out for youth choir, because it means standing up by her lonesome in front of a bunch of people and risking total failure.  But what if she were to make a YouTube video that disguises her appearance but showcases her outstanding voice, and upload it to the choir director's private feed?  What could go wrong?
Plenty, of course.  I'll admit to getting a little irritated with Cadence.  She's touchy about being "pitied," and resistant to dorky forms of love from well-meaning friends and relatives.  Her voice (literary voice, that is) seems a little too adult and the scenes of her rockin' black church may be a bit extravagant  For a short book, it's packed with themes: father-son conflict, the relevance of literature, parental expectations, parental abandonment—not enough room, perhaps, to do them justice.  But I very much like how Cadence comes around, first by giving out what she's been holding back, and feeling the love of her close-knit community in return.  They don't just pity her—they care about her.  With a deepening of understanding comes the knowledge that Cadence's gifts are from God and meant to be used.  But her personality is from God too, and she doesn't need to suddenly become gregarious in order to succeed.  The things she can't change, she can stop agonizing over.  Her story may wrap up a little too neatly, but still sweetly.
Cautions: None
Overall rating: 3.75 (out of 5)
Worldview/moral value: 4
Artistic value: 3.5
Reading Ahead for You
Reviews and Resources Weekly in Your Inbox