The Will Wilder adventure series, though not marketed as Christian, draws its inspiration from the Bible, with numerous biblical references embedded in a fast-paced narrative.
Will Wilder series by Raymond Arroyo.  The Relic of Perilous Falls (#1, 2016) and The Lost Staff of Wonders (#2, 2017).  Random House Crown, 330 pages.
Reading Level: middle grades, ages 10-12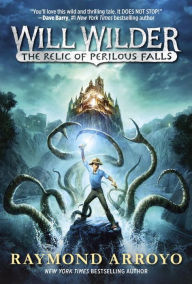 Recommended for: ages 10-14, especially boys
Will Wilder had no idea there was anything special about him until the day he got on that donkey at his brother Leo's eighth birthday party.  As soon as Will jumped on his back the gentle creature went berserk–leaping, braying, jumping on the table—and did it talk? If donkeys talking and seeing supernatural beings rings a bell among believers, that's no accident.  The prologue, which takes place eighty years earlier, hints that this is no ordinary fantasy.  There we see a WWII soldier named Jacob Wilder, on a secret mission to secure sacred objects from the Bible before they can fall into the wrong hands.  It's a holy calling, passed from Jacob to his daughter Lucille and by the end of Chapter One, Will's Aunt Lucille knows that Jacob's great-grandson has a special destiny too.  Will won't learn of his calling until lizard-like creatures begin crawling out of the Perilous River and wreaking havoc on his home town–all because he passed the fingerbone of St. Thomas to someone who was up to no good–and by then it was almost too late.
Will hardly has time to recover from that hair-raising adventure (The Relic of Perilous Falls) before he's plunged into another involving the staff of Moses (The Lost Staff of Wonders).  This time the hapless town falls prey to a series of disasters resembling the ten plagues of Egypt, and since Will is the firstborn of his family, he's got to be getting a little nervous . . .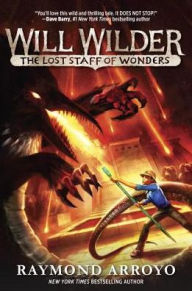 Will Wilder has been compared to Percy Jackson, possibly by reviewers who consider the events of the Bible to be as fanciful as Greek mythology. A better comparison is to Raiders of the Lost Ark and Indiana Jones and the Last Crusade. It's refreshing, not only to see Bible stories treated as fact, but also biblical virtues, like obedience, faith, and holiness, receive their due.  The narrative is sprinkled with unattributed Bible references and the town of Perilous Falls (where Jacob Wilder built a museum called Peniel for his Antiquities Collection), might be seen as a metaphor for the good fight of faith.  If the plots are a bit formulaic they don't drag, and if some of the characters are stereotyped, they're at least on the side of the angels—literally!  Non-Catholic readers may become a bit uncomfortable with the storylines' dependence on relics, even though relics, readers are assured, are not the objects of faith but rather tools to "focus faith."  That faith seems to be real, but readers won't much of a handle on its content.
That's only to be expected in an adventure novel, and these adventures are good snaky fun.  But there's a bigger problem with Bible fantasy.  Early in the first book, Aunt Lucille recalls a prophecy about the one who would restore unity among the relic-guardians called Brethren: he shall coming riding on a colt, the foal of a donkey, and his blood shall spill.  this shall be a sign that the battle is near . . .   This is clearly Will, our young hero.  There's certainly nothing wrong with young heroes in juvenile literature, but when tied to Bible references and biblical-sounding scriptures, are they in conflict with the real hero of the Bible?
Cautions: Violence (not overly graphic, but the demons and monsters might be too intense for sensitive readers).
Overall rating: 3.5 (out of 5)
Worldview/moral value: 3.75
Artistic value: 3.25
Talk amongst yourselves...