The movie version of Before I Fall has revived interest in this novel of a teen girl's opportunity to relive her last day six times in hopes of improving her character.
Before I Fall by Lauren Oliver.  Harper, 2010, 470 pages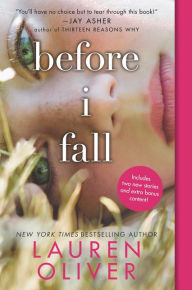 Reading Level: Young adult, ages 12-15
Recommended for: ages 15 and up
"Is what I did really so bad?  So bad I deserved to die like that?" Perhaps we can't blame Samantha too much–she was just living the American-teen dream, enjoying high school as a social pyramid with herself and her besties at the top.  Part of the fun of being on top is kicking those who are down, especially a social outcast named Juliet.  But on the night of the party Samantha is yukking it up with her friends as their car speeds down the highway, and suddenly everything goes blindingly white.  Then she wakes up again on the morning of that same day—stuck in a time loop.  She lives that day six more times, learning a little more with each repetition:
Day One: Samantha as she is, heedless, conformist, popular, cruel.
Day Two: Confused and frightened as the events leading up to the crash play out again.
Day Three: Anxious and cautious as she tries to re-direct events.
Day Four: Going for the gusto with a sense that nothing matters that much anyway.
Day Five: Reconnecting with family and trying to make former sins right.
Day Six: Trying to be a better person but falling flat.
Day Seven: Saying goodbye; no longer afraid or especially sorry, just appreciating beauty, family, and friends.
Comparisons with Groundhog Day are inevitable, especially now that Before I Fall is a feature movie with mostly positive reviews.  I haven't seen the movie and can't comment on its positives, but the book may help some teens slow down and look at their lives and personalities.  Each replayed day brings Samantha further insight into her character and its shortcomings, and to the extent it inspires more self-awareness among readers, that's all to the good.  They won't come to a strong conclusion, though.  Death ends up being almost a friend, instead of the last enemy (see 1 Cor. 15:26): it allows Samantha to choose the moments she wants to go on forever, such as kissing the guy who should have been her boyfriend.  Experience is all there is, meaning we are all that is, and we somehow go on to another existence. The how and why is left up to wishful thinking.  This novel is worth talking about as an example of where many teens are with their spirituality and sense of the afterlife, as long as the conversation moves on to the real hope we have in Christ.
Cautions: Sensuality (lots of sexual innuendo, but no actual sex); Language (s- word vulgarity, some omg profanity)
Overall rating: 3.5 (out of 5)
Worldview/moral value: 3
Artistic value: 3.5
Talk amongst yourselves...